January is Train Your Dog Month- Celebrate with Big Moose Dog Training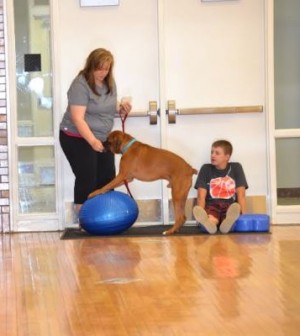 January is Train Your Dog Month sponsored by the Association of Professional Dog Trainers (ADPT). The APDT's core mission is education, so it is excited to dedicate an entire month to educating pet owners on the importance of training with a "LIMA" philosophy- that is, one of using the Least Intrusive, Minimally Aversive method.
Reminding pet owners of these widely-accepted methods is a great way to kick off the New Year and Big Moose Dog Training is celebrating in several different ways!
Read about Big Moose Dog Training here.  
The most obvious way to participate is to join a class. Big Moose classes resume soon and registration is open for most of the locations. There will be a little something for everyone: Puppy Kindergarten, where Christmas puppies can get off to the right start, and Basic Obedience where dogs under a year old can get their AKC S.T.A.R. Puppy certification are the most popular seminars. There will also be some fun Rally & Trick Training classes with the option to earn some AKC titles as well and, of course, the APDT Canine Life and Social Skills program will open not only to pet dogs but to dogs in foster and rescue care too.
Click here to register for a class.
For those who have a hectic January or live out of state, Big Moose Dog Training is doing Free Facebook Training Groups that anyone, anywhere can participate in no matter their schedule. Topics range from getting your dog to come when called to including ways to entertain your dog when it's too cold to play outside. "Moosekateers" can participate from the comfort of their own home, which is an added bonus!
Find Big Moose on Facebook here.  
The final way you can participate in Train Your Dog Month is to attend the January Dog Scouts Moose Troop event. Big Moose Dog Training has just been approved to have Nebraska's FIRST Dog Scouts Troop! Dog Scouts is a national organization that is like Boy Scouts or Girls Scouts but for DOGS! And, yes, your dogs can earn badges. Big Moose's December event was a Free Toy Making Workshop. In November, attendees did two different Turkey Trots (one was a 5k run and the other was a 1 mile walk). To celebrate Train Your Dog Month, Big Moose has decided to make the January Moose Troop event a training event, showing those who have interest how their dog can achieve their first Dog Scouts Badge. badges!
Attend a class, become a better pet parent, brush up on those basic commands, or even become the parent to a Dog Scout with Big Moose Dog Training in January!