Jax, an autistic Omaha boy, has his birthday wishes come true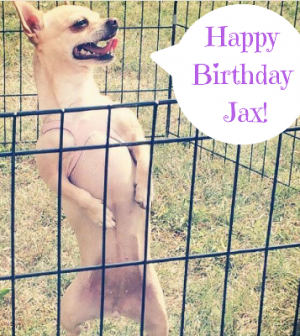 On Sunday, August 13, something super awesome will be happening at That Dog Wash (14th and Jackson) in Omaha. A boatload of pugs will be lovingly mauling Jax, an autistic nine-year-old boy, who wants nothing more that to be showered in curly-tailed, snorty pups for his birthday.
The event, brought to Jax by his mother with the help of many pug lovers from Pug Partners of Nebraska and Pug Lovers of Nebraska and Iowa, is from 1 p.m. until 3 p.m.
Jax's mom reached out to the Pug Partners Facebook page recently, stating that her son is obsessed with pugs and that she wanted to throw him a pug-themed birthday party. "She asked if we would be willing to spread the word and invite local pug owners for his party," said Terra Henggeler of the pug rescue. "He is an avid pug lover and is as crazy as the rest of us with all of our pug shirts, stuffed animals, pillows, toys, and more."
Ember, Jax's mother, said he first fell in love with pugs performing in YouTube videos and the obsession continues to grow.
On whether the group believes it will have enough pugs to celebrate, Henggeler said that last year a gentleman reached out wanting to know if the group could help him with his marriage proposal to his girlfriend. "We got somewhere around 12-14 pugs together for that special occasion, so when Ember contacted us I thought, 'we can easily do this!' We have a close community of pug lovers with enormous hearts that I know would love to help make Jax's birthday an unforgettable one." Henggeler estimates 20 pugs or more will be attending the bash. We all hope that number is big enough for Jax.
If you'd like to help Pug Partners of Nebraska with its outreach like this (and with any other campaigns or day-to-day missions) you can click here. 
Happy Birthday, Jax!