Join Animal Advocates at Nebraska's Humane Lobby Day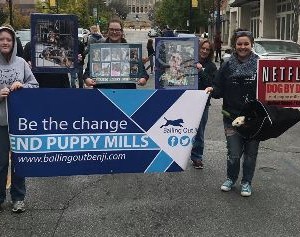 Wouldn't it be nice if you could walk up to your state representative and tell him or her what you wish they'd do for animals? You are in luck; The Nebraska Humane Lobby Day gives you that chance.
Nebraska Humane Lobby Day, March 12, 2018, is an opportunity for statewide advocates to voice their concerns regarding the welfare of animals.
The Humane Society of the United States- Nebraska will host a detailed Citizen Lobbying Session and make an appointment for you to meet with your elected officials and staff. In addition, organizers will be discussing the efforts of local animal rescuers and current bills impacting Nebraska's animals.
Tickets are $5.00 per person and will go on sale on February 8! You can pre-register by emailing jnickerson@humanesociety.org.
Mindi Callison, the founder of Bailing Out Benji, will be a guest speaker at this event and you will also have the opportunity to speak with her Nebraska volunteers about how you can get more involved in the fight against puppy mills.
Callison is stressing that there are around 40 spots left for Nebraska animal lovers to sign up for the event!
"Humane Lobby Day is an amazing opportunity for animal lovers, animal rescuers and animal advocates to join forces and show Nebraska legislators AND the puppy mill owners/supporters that we are working together to create change," says Callison. "We are the ones voting and we are the ones talking directly to the public to create positive change for the animals in Nebraska"
By pre-registering, this gives Jocelyn Nickerson, the HSUS-Nebraska representative, the ability to find out who your legislator is and get you a time to meet with them personally. She will also be giving you the tools you need to speak with your legislators about the issues that matter most. Events start at 9 a.m.
"This is one day when you can band together with other animal advocates to speak with your legislators about preventing tethering during severe weather, ending the open season hunting of mountain lions, allowing rescuers to forcibly enter a vehicle without facing criminal charges and other animal protection issues you'd like to see progress in 2018. It's your chance to show how much animals mean to you and to advocate for laws that will improve their lives," says the Humane Society of the United States' Web site.
This is also an amazing way to network with like-minded individuals to create positive change in Nebraska for the animals. Get this date on your calendar, register early, and get ready for Lincoln and Humane Lobby Day!
For more information, find the event's Facebook page here.