K9Cuisine promises great service, products, fast shipping, community outreach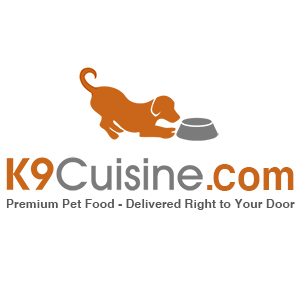 Nearly every product one can buy in a traditional brick and mortar business is available for purchase online. And with so many turning to the web to shop, it's no wonder that recent reports indicate that more than half of U.S. pet owners shop online for food, supplies, and gifts for their animals. Online products are often cheaper than at the physical store one can visit, too. Another draw of online shopping- shipping is often free and can be expedited, appearing on doorsteps in as little as one day.
Knowing all this, it's no surprise that one of the first places pet owners could buy food and supplies online, K9Cuisine, is going strong as it nears a decade on the web. An Omaha-based company, and a new Pet Partner for Pets in Omaha, K9Cuisine has been praised for its selection, exceptional customer service, and the buying experience.
Get to know K9Cuisine in this Pet Partner post and, when you order, let them know you found them through Pets in Omaha- the local leader in pet news and information online.
K9Cuisine Highlights
Founded in 2007, K9Cuisine.com was one of the first online pet retailers that specialized on providing only healthy food options for both dogs and cats. Since then the company has shipped tens of thousands of orders to its customers.
In the last decade, K9Cuisine has built a great reputation for having unbeatable customer service. Many customers have shopped with K9Cuisine because they know that if they have any issues or any questions, the company will do its best to take care of them.
K9Cuisine prides itself in treating all of its customers like family. In fact, whenever the team gets a chance to talk directly to a customer, it does its best to learn about them, their pets, and any specific needs customers have in order to find the right products.
A new, completely rebuilt website on April 1, 2016.
K9Cuisine carries over 150 of the top pet food, treat, and accessory brands.
Any order over $59 receives free shipping!
K9Cuisine offers an AutoShip program that allows customers to sign up and have their food delivered to them as often as they want and without having to constantly remember to place an order. These orders receive an extra 5 percent discount.
Charitable and Outreach Highlights
On its new website, K9Cuisine has its own blog. It is used to provide useful pet-related topics AND contribute to shelters and other non-profit organizations all around the country. "When we write an article for these organizations," says Joshua Barnes, Vice President of the company, "we highlight who they are and which services they offer. We promote these organizations to all of our fans and customers to help spread the word about the good they do."
K9Cuisine has donated, for example, over $12,000 worth of pet food to the Nebraska Humane Society's Pet Food Pantry. K9Cuisine is an avid supporter of Nebraska Humane Society events like the Walk for the Animals, Dining with Dogs, and more."
K9Cuisine works with several non-profits and shelters all over the country to donate pet food and other items they need.
Dog Food Rating Tool (New!!) 
Working with pet nutritionists, K9Cuisine has developed a simple online dog food rating tool that allows fans/customers to see how a particular dog food rates based on a formula the company has developed. The tool can be found here: https://www.k9cuisine.com/dog-food-rating-tool. Though this tool is not all-encompassing (as there are many more factors to consider when choosing a food for your pet), it does serve as an easy to use tool for consumers to identify the overall nutritional value of the food. This tool has recently been re-developed and K9Cuisine also has plans to expand it in the future.
K9Cuisine's Promise to You: Great customer service, superior products, and fast shipping         
"Our customer service staff will certainly leave you with your tail wagging! Whether you just have a question about a product, or need some assistance with an order, our customer service staff is here to help! Our team spends countless hours researching and sorting through all of the various pet brands, looking for those products that meet our strict guidelines. We combine this with feedback from our customers to ensure we offer only superior products. Our fulfillment center is a finely-tuned operation allowing us to process and ship your orders FAST! Plus, all orders over $59 ship for free!"
Above, take a peek at some of the companion animals of K9Cuisine's employees!
Pets in Omaha is proud to have the support of K9Cuisine and we hope to give readers a new online-shopping opportunity. Joshua Barnes and company run a successful business while also giving back to the rescue and shelter community we all love to support.
For more on K9Cuisine or to start ordering from this wonderful, tested, and local business, click here.