Local German Shepherd Rescue rescues hundreds of "Rez Dogs"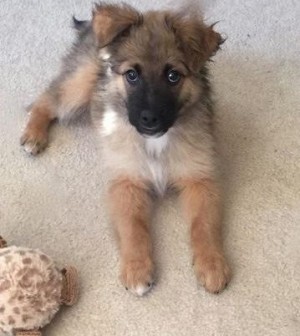 Most people who live in and around northwest Nebraska's Native American reservations live in unimaginably tough conditions. Alcoholism is rampant. Suicide rates are high. Poverty is the norm as this part of the state includes some of the poorest counties in the country. As one can imagine, animals on "the rez" have it rough too. Luckily for the dogs on the reservations, Heartland German Shepherd Rescue (HUGS) is there to help some dogs find a better life.
On a recent run to Pine Ridge and Rosebud Reservations in South Dakota, HUGS found Tucker. Tucker (pictured above) was less than four months old and was suffering from Parvo.
Parvo is a contagious disease that affects young and old dogs the most. It causes problems in the intestinal and heart systems and can kill dogs quickly.
"We [HUGS] frequently take in dogs with medical needs, including Mange, Parvo and other illnesses- some that require costly surgeries," Michaela Sievers, volunteer and social media correspondent for the rescue, said.
After being brought to Omaha, Tucker was taken to Ridgeview Animal Hospital where a veterinarian volunteered time and materials to perform multiple costly surgeries.
HUGS has been rescuing German Shepherds like Tucker for the last one-and-a-half years. When they formed, Sievers said their goal was to help purebred German Shepherds.
"German Shepherds are not a breed for everyone as they tend to require more time, exercise, and stronger leadership than many other breeds."
But when they heard about the reservation dogs from across our state, fondly named "Rez dogs" by volunteers, they knew they had to help.
Dogs living on the Rosebud and Pine Ridge Reservations experience harsh living conditions from birth. The reservations include two of the most economically-challenged tribes in the northern plains according to the Northern Plains Reservation Aid website.
For example, one out of every three citizens on the Rosebud Reservation are homeless. Because of this, they don't have the resources to take care of the dogs.
Sievers said that these dogs are mostly strays that lack food, water, shelter and veterinarian care. Without these necessities, the dogs can only survive three-to-four years on the reservation.
"We [HUGS] vowed to help as many as we could. And so our rescue grew," Sievers said.
HUGS even decided to save the "non-Shepherdly" dogs. Together, the volunteers drove 12 hours to and frm Valentine, Nebraska to pick up the dogs. When they were brought to Omaha they were given to families will either adopt or foster them.
To date they have saved over 200 Rez dogs including pups like Tucker, older dogs, pregnant moms, nursing moms, and whole litters.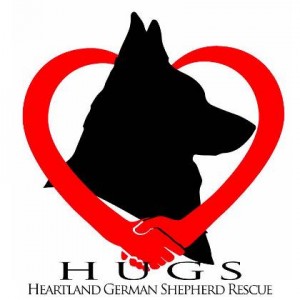 Sievers said they couldn't have saved so many without all the volunteers that donate their time, money and houses.
"We all work great as a team, and help each other out as well as providing a huge support system to our fosters so they have help every step of the way."
Without the volunteers, dogs like Tucker would still be wasting away on the reservations.
On December 30, the HUGS Facebook page announced that after several emergency visits to the hospital and "lots of TLC in his foster home," Tucker had recovered and was up for adoption.
To learn more about how to help HUGS or adopt a German Shepard in need, you can go to their Facebook page here or their website here.