Long Dog Fat Cat Welcomes You to Its New Store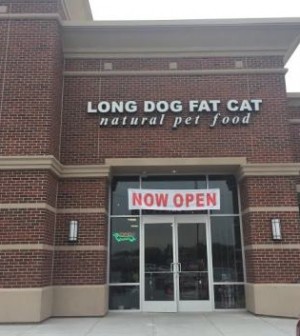 Eric and I took a little trip last week. One of our amazing partners, Long Dog Fat Cat, opened up their second store in Omaha! We checked it out and it is awesome.
Located on 2501 S. 90th St, Long Dog Fat Cat allows many of us who don't live out by Village Pointe (its first location) an opportunity to pick up various free samples of natural and healthy pet food, store-made treats for our cats and dogs (yes, they make delicious treats right in the store) and browse the HUGE selection of pet food, treats and toys. Stocked with a refrigerated and raw food section and aisles of dry and wet varieties of food, Long Dog Fat Cat is loaded with healthy choices.
Long Dog Fat Cat has not had its grand opening for the second store yet, but don't let that fool you- business is up and running.
Check out the photos we took, right before I picked up some treats and food for my own cats!