Lost your pet in Omaha? Here's some help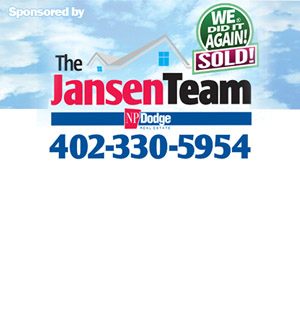 Not knowing where your animal is stinks. If your dog sneaks out of the yard or jumps the fence, if your cat slips out the door and wanders off, you've got a tough road to hoe. Finding your pet can be hard, but it shouldn't have to be. We've got tips for you here on what to do when your pet is away and helpful advice on how to get it home as quickly and safely as possible.
In preparing for an event when your pet is misplaced, you must be proactive. Here's some great advice from Pam Wiese of the Nebraska Humane Society:
"The number one thing people can do is to put tags on their pets. It's easy, it's cheap and it's available in all sorts of places (your pet store, the Nebraska Humane Society). Mine just have my pet's name, street address and my phone number. If my pet gets out and someone down the street finds him, he has a much better chance of them simply walking him back up the street if they know he lives close by. They don't have to wait for animal control, or take the dog all the way to the shelter, and I won't have to reclaim and pay city fees."
Yes, tagging your pet is very simple, but some pet owners forget or neglect to do this. Tackle this step first in your preparation.
Another helpful thing to do is getting your animal microchipped. Dogs and cats that come from many shelters get a microchip which contains information about who owns the animal. The shelter can use this information to easily locate someone and arrange for a return of the pet. If your animal doesn't have a microchip , find a low-cost event at your local shelter and get it implanted (especially cats…they aren't likely to love wearing identification tags). When your animal finds its way to a shelter, this can expedite the search for you.
Wiese says "microchipping is great for cats and also provides even more information should he lose his tags, but tags can be read by anyone."
Also, it is important that your pet is up to date on licensing. If it is and when it gets picked up by a shelter, it is eligible for a free ride home from animal control. "They can look at tags, scan for a chip and look up his info on their laptops in the vans," Wiese says. If he is up to date and legal (and if animal control isn't swamped and has time to return a pet and you are home to receive your pet) they can return them the first time they find them stray.
The licensing deadline is March 15 of each year. When the deadline approaches, lines are typically horrendous at the Humane Society. To avoid lines, go early. Also, click here for licensing and law information for the state of Nebraska.
If you live in the Omaha area, your lost pet will likely end up at the Nebraska Humane Society. Once you've determined the animal is lost for sure, the Society recommends that you check their Web site first – www.nehumanesociety.org – then filling out a lost animal report if you don't see your pet there. Here's how to do that:
Online:  Submit a Lost Pet Report.  Be as detailed as possible when filling out the report, including if your pet is microchipped and/or wearing identification tags.  You will be allowed to attach a photo at the end of the report.  Use the appropriate Submit a Lost Pet Report link on the left to submit your report. Submitting a lost report does not guarantee that we will call you if your pet comes in.  Unless the pet is microchipped or has a valid ID tag on its collar when found, we may not know it is your pet.  We recommend you physically come to the shelter daily to look for your lost pet.
In Person:  Come to the Nebraska Humane Society and we'll help you complete a lost report.  Be prepared to give a detailed description of your lost pet.  Bring a photo of your pet with you. Once your report is completed, we'll have you tour every kennel in our building to look for your pet.
By Phone:  Call the Lost & Found desk at 402-905-3410, and we will assist you in completing a lost report.
The Nebraska Humane Society Web site has a ton of information about lost pets, how to claim them if they end up at the shelter, what to do if you've found one and much more.
Click here if you have lost your pet. 
If you have found a lost animal and it does not have tags, here are some things you can and should do according to the NHS:
1. If the animal has a rabies or license tag, the Nebraska Humane Society can help you trace it.  Call the Lost & Found desk at 402-905-3410. Please provide the license and/or rabies tag number, along with a description of the animal and they will call you back.  Between the hours of 7:00pm and 12:00 midnight, please call 402-444-7800 and choose option 1 for Animal Control.
2. Search the NHS's online lost pet pages to see if the animal you have found has been reported missing by its owner.
3. If the animal is not aggressive and you would like to keep it at your home while the NHS tries to locate its owner, submit a Found Pet Report online. You will be allowed to attach a photo of the found animal at the end of the report.
All pets should be scanned for a microchip and a picture should be provided to help get them home. If you are not able to upload a picture when submitting a found report, please bring the pet to the Nebraska Humane Society and they can take a picture to put on the website and scan it for a microchip.
4. If you do not wish to complete a Found Pet Report online, call the Lost & Found desk at 402-905-3410 and they'll help you complete a report.
5. If you are unable to keep the animal in your home, bring the animal to the Nebraska Humane Society.  Since they are the animal control facility for the Metro area and all of Sarpy County, most owners will check this facility first.  They will hold the found animal through its stray holding period.  If unclaimed, the animal's temperament and health will be assessed for entry into their adoption program.
6. For your safety, do not attempt to approach an aggressive and/or scared animal. If you can safely contain the lost animal in your yard, kennel or garage, please call Animal Control at 402-444-7800, option 1 and they'll pick the animal up.
For more information on reports and what to do, click here if you have found an animal.
Doing these things will help you either find your pet or get a lost pet home.
If you are on Facebook or watch the news, you've likely heard of the Lost Pets of Omaha Facebook page. This is a page, run by a couple of helpful Omaha women, where people can post found dogs or put up information about lost pets. The group has a large following and has had great success, so that could be another option for you.
Click here to find the Lost Pets of Omaha Facebook page. 
Did you find what you are looking for here, on the Humane Society page or the Lost Pets of Omaha Facebook page? We'd like to know! Any other tips for pet owners? Holler at us if you've got more advice by using the "Contact Us" page on the top of petsinomaha.com.