Love on a Leash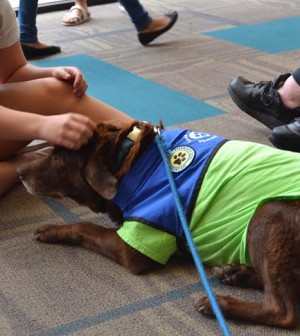 Chris Walstrom sat in Durham Student Center at Bellevue University on Wednesday with her 13-year-old chocolate Labrador.
"Hi, this is Reece. You can pet him if you'd like," Walstrom said to students when they stopped by the room.
Reece lay in front of Walstrom with his blue vest that identified him as a therapy dog. Several students stopped to pet Reece and comment on how much they love dogs and even miss their own from home. This visit to Bellevue University was to help kids rid themselves of stress during their finals week.
Walstrom and Reece are part of the new Omaha Love on a Leash chapter that started to form two years ago. Love on a Leash in a national non-profit volunteer organization based out of San Diego, California. Some chapters not only include therapy dogs, but also cats and rabbits.
The first, and most important, goal for therapy animals is to brighten someone's day.
"Dogs don't judge you, they just sit and listen," said Peggy Ord, who brings her five-year-old Schnauzer Ellie to five events each month.
The group, although young, has over 50 K-9 members and is welcoming more and more each month. Two dogs at the Bellevue University de-stress event, Kallie and Jojo, who are both three, are training to become certified therapy dogs. Kallie and Jojo are on their fifth of ten events needed to become certified.
Before becoming a certified therapy dog, dogs have to pass a K-9 good citizen test. That test includes things such as not biting or licking people and not jumping up or barking.
Then they move on to therapy-specific training which includes learning how to remain calm with distractions such as people yelling, wheelchair and dropped items. The dogs also have to learn to move close to a bed or wheelchair and stand still while unsteady hands pet them.
Both Walstrom and Ord's dogs completed their training at the Nebraska Humane Society four years ago.
Once certified, Love on the Leash dogs visit plenty of places, including local hospitals, libraries, schools, assisted-care facilities and nursing homes.
In nursing homes and assisted living facilities, residents enjoy visiting with the dogs and sharing stories about their own pets.
Hospital studies have shown that petting a dog lowers one's blood pressure and stress hormones and promotes a sense of well-being.
The dogs also go to juvenile court and wait with children and their families while they wait to go before a judge.
One of Walstrom's favorite places to visit is the Children's Respite Care Center (CRCC). The Children's Respite Care Center is a local, non-profit organization that deals specifically with helping support children with special medical, developmental, cognitive or other impairments or problems.
Walstrom says that the reason she likes CRCC is because the kids are always so excited to see the dogs. They love to point out the dogs' ears, eyes, nose, mouth and especially their tails.
"It's a very intense visit for the dogs because they are constantly being touched but it is so rewarding to hear a previously non-verbal child yell "Dog!" when they see us enter their classroom," Walstrom said.
Ord, on the other hand, likes to visit the Council Bluffs library the most. When Love on the Leash goes to the library it's generally for children. The children get to pick one of the dogs and then they read to them.
"All dogs have different personalities, so there is a dog for everyone," Ord said.
The dog parents sit nearby, sometimes coaching young readers using the help of their dogs.
"Sometimes if a child is struggling a little bit I'll say something like 'Reece didn't quite understand that, could you read it again for him, it's fun to watch a normally shy child open up and have a conversation with a dog," Walstrom said.
The group has also traveled farther outside of Omaha and Council Bluffs to places like:
-Camp Hope in Sioux City, Iowa
-Iowa School of the Deaf
-Several nursing homes in Fremont, Nebraska
-A school in Logan, Iowa
With a group that is still expanding in its first few years, the number of places visited will only grow. To learn more about this wonderful organization, you can click here.