Matchmaking Service, PawsLikeMe, Adds Cats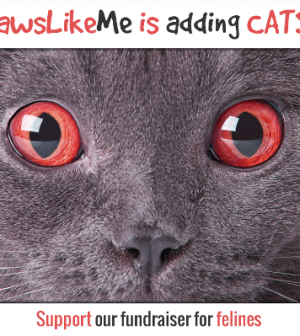 We've introduced you to PawsLikeMe, a service you can use to find the perfect pup and who to adopt/rescue it from. To get to know the service, click here.
PawsLikeMe is a search engine for finding pets, created with a unique system that matches pets and people using an algorithm that is proven to be over 90% accurate. Founded in 2014, PawsLikeMe also provides a simple pet re-homing program for individuals & families who need to find a new home for their pet, or a pet in need. PawsLikeMe partners with shelters/rescue groups, and other adoption agencies, and donates 50% of the adoption fee for pets referred to the re-homing service.
While dogs were the focus until now, PawsLikeMe would like to begin matching you with your perfect cat! Read these words from Lena Oakley of PawsLikeMe to find out how you can be matched with your ideal kitty soon!
PawsLikeMe, the free online platform that matches adoptable dogs with new families, is launching a crowdfunding campaign to add cats to its offerings. The website, which launched in fall of 2015, uses a scientifically proven algorithm to help people find dogs that will be a good fit for their personality and lifestyle. Now, PawsLikeMe is looking to expand its matchmaking capabilities to include cats. Today, the company launched an Indiegogo campaign to aid in the expansion of its platform and to support the development of the first people and feline compatibility assessment.
"Ever since we started our company, the vision has always been to add cats into our platform," said Elizabeth Holmes, co-founder and CEO of PawsLikeMe. "However, there are special considerations to take into account when you're working with a different species. We've now developed the inner workings of a cat algorithm which will power our new assessment, but we need additional support to bring the product to market."
While currently there is no government institution or animal organization responsible for reporting national statistics on U.S. animal shelters, it's estimated that 3.4 million cats enter animal shelters every year. It's also estimated that 41 percent of cats, or 1.4 million, will end up euthanized. PawsLikeMe's website provides animal rescues and shelters with a new resource to find homes for their animals and also offers individuals who can no longer keep their pets with a better alternative than shelter surrender.
"We want people to look at animal adoption differently," said Marianna Benko, co-founder and CCO of PawsLikeMe. "Instead of focusing on physical qualities, we're looking below the surface and identifying key factors which determine compatibility between a person and their cat, including the person's lifestyle and the animal's individual personality."

PawsLikeMe's goal for its Indiegogo campaign is $15,000, and the company plans to use all additional funds raised above that goal to install PawsLikeMe kiosks into shelters. These kiosks will match adopters to pets inside the shelters and implement the re-homing program directly into the shelter's intake procedure for surrendered pets.
PawsLikeMe's mission is to help people and pets find each other, and live happier lives together. To support PawsLikeMe's campaign visit, click here.