Meet a ton of adoptable dogs tomorrow, June 9, in Omaha!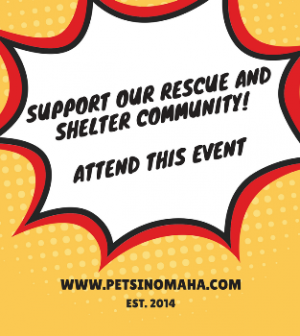 Looking for a lab? How about a pug? Something else? These area rescues will have a bunch of adoptable animals available to meet this weekend, so mark your calendar and carve out some time. If you're interested in fostering, volunteering, or donating, these are great events to learn more about rescue, too!
On June 9, 2018, check out these meet and greets:
From 11:00 am – 1:00 pm – Meet adoptables from Hands, Hearts, and Paws at both the 169th and Burke and 90th and Center locations of Long Dog Fat Cat!
Also, from 12:00 pm – 2:00 pm, join Muddy Paws Second Chance Rescue at the 815 McDermott St. location of PetSmart in Council Bluffs!
And finally, from 12:00 pm – 2:00 pm at Woof & Whiskers (3506 N 147th Street, Suite 128 in Omaha), meet adoptable pugs from Pug Partners!
Always stay tuned to Pets in Omaha's Event page for up-to-date event info! We feature a number of new events every week.