Meet Airedale Rescue and Adoption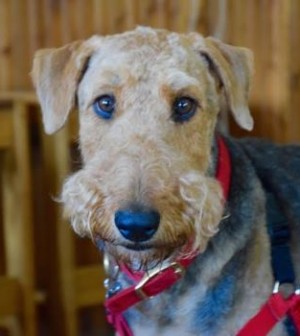 We, as always, encourage readers to find a rescue or shelter organization that agrees with principles and practices you support. Airedale Terrier Rescue and Adoption (ATRA) is a hard-working organization that would love your support, so if you love Airedales, please consider helping ATRA any way you can! Meet Airedale Rescue and Adoption, our latest featured group in our Rescue Friends series.
Airedale Terrier Rescue and Adoption was founded over 20 years ago in the state of Michigan and included several surrounding mid-western states.  ATRA has now grown to include 13 states plus Ontario.
ATRA has board members that include a President in Wisconsin, a vice-president in Minnesota, Treasurers in Michigan and a Secretary in Nebraska.  All of their states have a coordinator who is responsible for Airedale rescue efforts in that state.
All information, including dogs for adoption is included  on its webpage at www.aire-rescue.com
The purpose of  the organization is to re-home Airedales who have lost their homes and to provide them with needed medical attention and evaluation before going to a new home.  ATRA has foster families that house its Airedales to learn more about them so that it can place them in a home where they can be successful.
ATRA may rescue from 50 to 100 dogs in a year in its 13 state area.  There is really not a typical day in rescue.  A day may start out with no dogs to deal with but a coordinator may be contacted by families needing to surrender a dog or it may learn of a dog not being cared for and will contact the owner.  ATRA arranges to pick up the Airedale and get them to a vet to be checked out and then to a foster home to be further evaluated.  People surrendering a dog must fill out an information sheet so that ATRA has as much information about the dog as possible.  ATRA lists dogs for adoption on its webpage and then if  the new family lives out of state it arranges to transport the Airedale to the new family.  ATRA completes home visits for applicants to check out their homes to insure the Airedale will be in a safe environment.
If you are wanting to help ATRA, it can always use help with fostering, transporting and of course with donations  to help keep the rescue in business.  ATRA has high vet bills because many dogs come in requiring spay/neuter surgery along with updates on vaccinations and to address any other health issues.
Thanks to Airedale Rescue and Adoption for sharing! If you can adopt, donate, or share this profile, please do!