Meet Big Dogs Huge Paws Rescue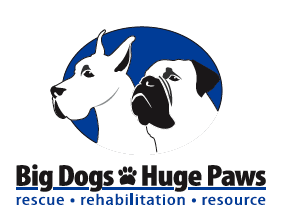 We at Pets in Omaha are excited to help spread the word about our local rescue organizations. Our latest Rescue Friends are from Big Dogs Huge Paws, a group founded in Denver which operates here in Nebraska and in a number of west and central states. The group will be a featured rescue at the 2017 Pick-a-Pooch Adoption Days from Pets in Omaha. For more about the group, see the question and answer session with it below! And make sure to watch the Pets in Omaha events page for get togethers featuring Big Dogs Huge Paws.
Q: What is your organization called and where are you located?
A: Big Dogs Huge Paws was founded in Denver, CO. We do not have a set location and all our available dogs live in foster homes. The adoption area for the rescue is CO, UT, WY, TX, NE, KS, OK, NM and MO.
Q: When, why and by whom was the organization founded?
A: In 2004, Lindsay Condon followed her lifelong dream and joined a Great Dane specific rescue in 2004. After 4.5 years of devoted volunteer service to Great Danes, Ms. Condon decided she had a greater mission. After discovering a huge need of rescue assistance for all giant breeds, Lindsay left in order to start another non-profit, 501c3 volunteer organization called Big Dogs Huge Paws, Inc in 2008. The organization was founded on a core philosophy that every "big" dog deserves a chance!
Q: Are there board members, a president or officers for your group? Who are they and what do they mean to the group's success?
A: Our leadership team consists of an upper tier of corporate officers, including a CEO/Chief Executive Officer, COO/Chief Operating Officer, CFO/Chief Financial Officer, CAO/Chief Administrative Officer and CMO/Chief Medical Officer. Then there is a Senior Management Team including Accounting Director, Operations Director, Retail Director, Information's Technology Director, Fundraising Director, Human Resource Director, Marketing Director, Media Director, Community Outreach Director, and Foster Director. Each member of our team is appointed by the officers based on their skills and abilities – rather than voted into office due to their popularity or the lack of other qualified candidates willing to run.
In addition, we have coordinators that are state specific to help with organizing state specific needs. In Nebraska, Alicia Nielsen is the Event Coordinator for the rescue.
Q: What is your organization's mission and how do you execute it?
A: Big Dogs Huge Paws was founded on the core philosophy is that every "BIG" dog deserves a chance. Our goal is to make sure that every dog receives only the best of care, food, and training. We will also ensure that they are properly evaluated (medically and behaviorally) and placed according to their special needs.
Q: How many people volunteer for your organization?
A: Across all our states we have approximately 1600 volunteers. In the Nebraska/Iowa area we have approximately 160 volunteers.
Q: How many animals do you rescue, foster and place in a year?
A: We usually have 80-100 dogs available for adoption at a time. In 2016, we had 459 adoptions. This month (April 2017), the rescue hit 3000 adoptions since we first started in 2008!
Q: Tell us what a typical day for your organization entails.
A: On a typical day, we are working with shelters or surrendering owners to accept incoming Giant Breed dogs. Every incoming dog is evaluated to find them the best foster family. Once a foster family is found, our Transport Coordinator organizing transporting the dog to the foster home; this could require organizing a transport across many states.
Once the dog is in the rescue, the foster family evaluates the dogs for any medical or training needs. The Foster family works with their Vet Coordinator to ensure the dog receives all the medical care they need. In addition, the foster family will test them in certain situations and provide them any training to ensure they are ready to be adopted. Once the dog is properly evaluated, the President of the rescue works with families approved to adopt to find the dog the perfect forever family.
In addition, our volunteers are continuously processing adoption applications and home checks to approve families to adopt a dog. Lastly, our volunteers are organizing events to help publicize the rescue and recruit more volunteers.
Q: What separates your rescue from others?
A: Big Dogs Huge Paws is unique in that we work with Giant Breed dogs. The dogs we have chosen to focus our rescue efforts on include, Great Danes, Great Pyrenees, Newfoundlands, Saint Bernards, Mastiffs (All Types), Irish Wolfhounds, Great Pyrenees and Scottish Deerhounds. There is a huge need due to the fact that most of these breeds do not have any legitimate rescue options and there are always more dogs in need than any one organization can help.
Q: How can animal lovers in the area help you in your mission? Donations? Volunteers?
A: Our biggest need is volunteers! Our Volunteers are the backbone of this organization and vital to our success. Rescue is not always easy work and at times a thankless job, but we promise you a heartwarming journey with a tremendous amount of personal fulfillment if you decide to join us in this exciting adventure. There are numerous ways in which you can get involved and no effort is too small in our eyes. Our Human Resource Director, Bree Dew, will work with you to find the best fit for your interests and skills within BDHPI. You will also be provided with a Volunteer Handbook, a tremendous resource with valuable information, including an organizational chart and contact information for all of our Officers and Directors who are anxiously waiting to hear from you!
For more on BDHPI, visit the group's website here. You can also find BDHPI on Facebook by clicking here.
Thanks to Big Dogs Huge Paws for answering questions for us and for readers interested in learning, donating, volunteering, and adopting!