Meet Big Moose Dog Training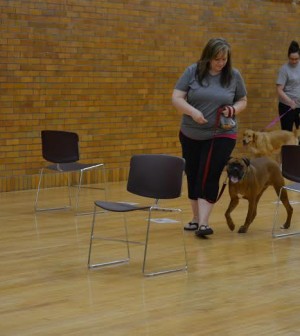 If you met a ten-year-old Kristin Sandstede, owner of and trainer at Big Moose Dog Training, you would most definitely have learned a couple of things about man's best friend.
"If you came over to my house, I would probably pull out the Dog Encyclopedia and have you quiz me on the different breeds," Sandstede said.
For as long as she can remember, Sandstede has loved dogs. By the time she was in the 8th grade, she was forced to stop reading about them; this was because she'd already read all the books at both her school and local public library.
After high school, she tried various college programs, including animal sciences at the University of Nebraska-Lincoln and pre-veterinary medicine at Peru State. After two years of working as a Veterinarian Assistant, she decided the medical side wasn't for her.
"I didn't like that these animals weren't happy to see me. They were hurt or sick and usually weren't happy to be there," Sandstede said.
What she enjoyed most was the time that she spent working at Kenl Inn, a top-notch boarding facility in Lincoln. She first got the opportunity to teach classes in 1998 through her mentor, Patt Scott of Fremont.
"There are two different versions of this story. My version is that Pat called and asked me if I wanted to help her teach a class. Her version is that I called her non-stop until she offered it to me," Sandstede said.
Whatever the story was, Sandstede had discovered she loved training dogs and seeing them transform. She teamed up with Scott to teach classes out of Scott's home and through Metropolitan Community College.  In 2002, Sandstede was offered a chance to teach basic obedience as the lead instructor at Kenl Inn.
In 2010, she began to build a following after leaving Kenl Inn to work independently, offering classes wherever she was needed. Two years later, Big Moose Dog Training was born to help people find her more easily.
"The name Big Moose came from just tossing names around. I've always loved Moose and Big Moose stuck," Sandstede said.
Now, Sandstede works out of a couple different locations including Metropolitan Community College in Fremont, Downtown Hounds, ComeSitStay in Omaha and Prairie Winds Kennels in Lincoln. She teaches puppy kindergarten, basic obedience, intermediate obedience, rally 4 fun, advanced games, Canine Good Citizen and K9 cardio.
She is also certified to evaluate for the Canine Good Citizen reward through the American Kennel Club. This allows dogs to become well-behaved in the face of distractions and is also a part of becoming a therapy pet.
Sandstede is currently one of two Certified Professional Dog Trainers in Nebraska who have had their skills accessed by the Certified Counsel for Professional Dog Trainers (CCPDT), an internationally-recognized and independent certification program. Being certified takes extensive knowledge, education and experience. The testing process is elaborate. She logs continuing education hours to keep her certification.
In February, she became the only person in the state of Nebraska certified to be a Canine Life and Social Skills (C.L.A.S.S.) Evaluator through the Association of Professional Dog Trainers (ADPT).
C.L.A.S.S. is an educational course that uses positive reinforcement to strengthen the bond between the owner and dog while learning skills. These are skills like ignoring other dogs and waiting by the door. For more information about C.L.A.S.S. you can go to the Association of Professional Dog Trainers (APDT) website here.
"These dogs can be from shelters, rescues, or foster homes, not just forever homes," Sandstede said.
Sandstede believes that every relationship between a dog and their owner is different and has to be adjusted to lifestyles.
Because Sandstede believes in helping dog owners connect with their dogs, she often offers freebies for her students. This includes offering "drop-in" classes as well as free Facebook Training groups throughout the year.
On one Saturday, a one-year-old Boxer named Brutus and his owner, Tiffany Reikofski, dropped in for a Rally4Fun class. Tiffany's son, Colton, noticed after their first few months together that Brutus a bit unruly, jumping and barking mercilessly.
"We were about to give up, but I told Colton we had made a commitment," Reikofki said.
Both Reikofski and Sandstede said that Brutus has become more behaved since beginning the classes.
Sandstede believes that taking classes and practicing can help improve the bond between owner and dog and create a healthy friendship. She encourages owners to go beyond the basic obedience courses.
For more information about Sandstede and Big Moose Dog Training, visit BigMooseDogTraining.com.