Meet Bogie, a great Golden looking for a great owner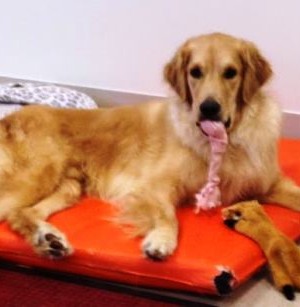 We introduced you to GRRIN back in January, a rescue dedicated to saving Golden Retrievers in Nebraska. Recently, we reached out to our friend Barb Garrett who has been with GRRIN for eight years and is currently an adoption counselor. We have not spotlighted a Golden Retriever yet and figured it was about time. We didn't really expect to be this touched by a story.
Meet Bogie.
Bogie had a wonderful owner and another pup to run around and play with. He loves just about everything. At two years old, life was good for this young boy. Bogie was your typical Golden. One day, his owner started to notice Bogie was not doing too well. Bogie went in for an MRI.
This sweet boy got diagnosed with Fibrocartilaginous Embolism (FCE), early this year. This left him almost paralyzed in his hind end and urinary-and-fecal-incontinent. Recovery is definitely in the cards for most dogs that suffer with this,  but Bogie's FCE was pretty severe.
Bogie's original, 78-year-old owner did everything he could to get Bogie the care and treatment he needed and wanted desperately to keep Bogie, but he could no longer take care of him. Refusing to euthanize, Bogie's owner surrendered Bogie to rescue back in November.
Barb was quickly contacted and looked to her team to help save Bogie. The only way they could take in Bogie was to find a foster home. By sharing Bogie's story, they found a veterinarian that offered to foster Bogie.
"The vet offered to foster Bogie and even try acupuncture as a treatment to potentially improve Bogie's mobility.  GRRIN moved quickly to schedule Bogie's transport Lincoln," Barb said. "While the team had become very attached to Bogie, and even had a going-away party, they were thrilled to know that he had a second chance.  The surrendering owner was beyond words."
Bogie has gotten mobility back but still suffers with incontinence. The two-year-old pup has been looking for a new home since November and we desperately want to find him one.
Here is a note from Barb:
"Everyone who meets Bogie falls in love with him!  He's the poster dog for a happy Golden Retriever – and don't let his "handicap" fool you, he can move a little faster than he lets on.  Bogie is truly a wonderful, quiet, loving boy. He loves all people and other dogs.  Bogie would be an amazing dog, especially for a person who works from home or is home frequently. He would have great difficulty with stairs or jumping of any kind.  Bogie will need his bladder expressed at least 3 times a day.  Continued therapy at home would be ideal such as passive range of motion of the rear limbs and regular walks.  Bogie grew up with a dog buddy and likes other animals.  I know the right family is out there waiting for this very special dog."
To learn more about Bogie visit GRRIN. Please share on your social media pages and with anyone that might be interested in meeting Bogie.