Meet the cat advocates from Feline Friendz
TNR. That's an acronym- don't feel bad if you don't recognize it. You are not alone.
I myself, being a cat person, didn't until very recently. My colleague Eric and I were listening in on a Nebraska Rescue Council's meeting as Larry Shackman started talking about TNR. We were embarrassed that we hadn't known this term prior. Trap, Neuter, Return (TNR), is a very important concept to the feline rescue world.
Larry Shackman is the current president for a strictly volunteer organization called Feline Friendz. Feline Friendz has been around for 10 years and is a huge advocacy group, especially for the concept of TNR. Here's their mission: "Dedicated volunteers whose mission is to end the killing of cats and be their advocate for their humane treatment. Our organization strongly supports the principle of Trap-Neuter-Return (TNR) as the humane solution when dealing with the Feral and abandoned cat population in Omaha and surrounding areas."
A feral cat is a domesticated cat that has been returned to the wild (abandoned) or is a kitten of an abandoned cat. These cats often live in "colonies." Currently, many cities deal with feral cats by taking them out of their colonies and euthanizing them. These cats are not a threat to society, according to Feline Friendz- there hasn't been a reported bite from a feral cat in Omaha for years. Cities employing the capture and kill philosophy is obviously not a humane way of trying to control the population. When you take a cat from a colony and euthanize it, while all the other cats in the colony are not spayed or neutered, then the colony will allow other cats to join the group and reproduce. No progress is made, only dead cats result.
TNR stops breeding from happening and addresses all the unwanted things that go with mating like cat fights, howling and unwanted kittens. The goal is to get the entire colony neutered or spayed. Once this happens, the colony is less likely to attract new cats because the females are not in heat and eventually the colony will fade out from natural causes. The TNR process is simple. A cat will be trapped from the colony and then taken to a facility that will spay or neuter it, give it a rabies shot for a low cost and return it to the colony the next day. Altered cats (spayed/neutered) are ear tipped so you can tell which cats have been vetted and which ones still need to be handled.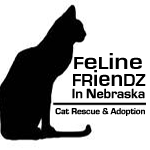 Feline Friendz wants to educate the public about TNR. They help teach how to set up traps and gives instruction. They also can arrange places for cheap spay and neuter. When they can help financially, they do. "We are strictly a volunteer group so there is only so much we can do. Money we get comes from grants and donations," says Shackman. When donations come in, they are able to take matters into their own hands. Besides that, they are left to educating and getting the word out as much as they can. One way you can help is aid them in getting the word out. Educating friends and family about the inhumane ways the feral cat population are being handled currently and educating about TNR is important. You can also take ideas to the city council and get them involved.
"This isn't a quick fix," says Shackman, "but it's the humane way."
Not only does Feline Friendz advocate and help with the TNR process, but they also have cats and kittens that they adopt to loving "forever" homes.
Shackman: "Our goal is to provide you with a loving feline for life. Our fees and services include complete medical care, spay or neuter and any other special needs your feline might need."
Adult cats cost $25 or are two for $35. Kittens are $50 or two for $75.
The adoption process assures that the cat is going into a loving household that plans on keeping the cat for life. There is an application on the Feline Friendz Web site they ask you to fill out so they can make sure you plan on keeping your new friend for its entire life. After all, the reason we have feral/stray cats is because they get abandoned. Feline Friendz wants to stop that. We at Pets In Omaha admire their mission and efforts.  Currently, Feline Friendz has 70 cats and kittens up for adoption. If you would like to donate, fill out an application to adopt or learn more by visiting the Feline Friendz website here.