Meet Chesapeake Bay Rescue and Relief!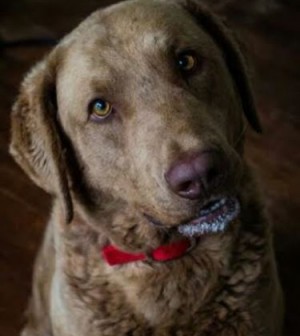 Pets in Omaha is proud to support and raise awareness for local rescue organizations that work hard to find loving homes for animals without one. Chesapeake Bay Retriever Relief and Rescue is our latest Rescue Friend and is just another wonderful group of people dedicated to making a difference in the lives of people and dogs. Check out our Rescue page for more features like this one!
Q: What is your organization called and where are you located?
A: Chesapeake Bay Retriever Relief and Rescue, Inc. (CBRR&R) is a not-for-profit, tax-exempt organization incorporated in the state of New York. This organization conforms to fiscal law as set forth in Section 402 not-for-profit corporation law of the State of New York and Section 501 (c) (3) of the Internal Revenue Code.  We are a national rescue but the North Central Region is based out of Omaha and covers Nebraska, Kansas, North and South Dakota, and Colorado. All but one of our Nebraska foster homes are located in the Omaha metro.
Q: When, why and by whom was the organization founded?
A: We were founded in 1978 by a few chessie lovers. They are located in states other than Nebraska but I'd be happy to provide you with their names if you wish. They included the "Relief" part of our name as we try to provide assistance to current owners as an option to them feeling they have to find a rehome their dog.
Q: Are there board members, a president or officers for your group? Who are they and what do they mean to the group's success?
A: The Organization is broken into Regions to aid in local networking and ease of management.  The Regions are not meant to be strict boundaries.  Inter-Regional cooperation is expected.  For example, when placing a dog in a home in another Region, please notify the Regional Director of that Region prior to placement. The hierarchy goes something like this: Under the Board of Directors, there are Regional Directors, Officers and Committee Chairs. Certain members help Regional Directors; other members help the Committee Chairs.
Board of Director members are elected by the volunteers for a two year term. Each officer is essential for our success. The Treasurer pays for all of the vet bills or reimburses foster homes, and the membership coordinator tracks all new volunteers and ensures they complete and submit all necessary paperwork to become members. The Board of Directors primarily is consulted when a Regional Director has a foster dog that may need to be euthanized due to medical issues or a temperament issue that makes it unadoptable. Or – we may have a dog with a bite history that we feel should still be allowed to enter rescue.  All of the Board must agree before any above action can be taken. They also provide the final approval if we have a dog that needs over $2,000 in medical work done. The only time that would be disapproved is if the proper veterinarian paperwork has not been obtained or if the outcome is not in the best interests of the dog.
Contact information:
Q: What is your organization's mission and how do you execute it?
A: The mission of Chesapeake Bay Retriever Relief & Rescue, Inc. is the rescue of Chesapeake Bay Retrievers (CBRs) and Chesapeake Bay Retriever mixes through an international, volunteer rescue network. Our network provides education and assistance to CBR owners, animal shelters, potential adopters and the general public to support training and re-homing of CBRs in need.  CBRR&R Members are dedicated to finding responsible and loving homes for Chesapeake Bay Retrievers. The goal of CBRR&R is to educate the public, breeders and fanciers on responsible dog ownership.  This education includes the benefits of spaying and neutering of pets, behavioral guidelines to prevent and treat problem behaviors, and to inform prospective CBR owners of the special qualities, characteristics and requirements of the breed before they acquire a Chesapeake Bay Retriever.
Q: How many people volunteer for your organization?
A: We have 29 volunteers in the North Central Region and approximately 268 nationwide. Not all volunteers are foster homes – some just help with transports, some with the technical aspects (website, etc.), and others help with rescue events. We have 5 core volunteers in the Omaha area that do all of the above and handle pretty much all of the fostering.
Q: How many animals do you rescue, foster and place in a year?
A: We average approximately 30 adoptions a year in our region.
Q: Tell us what a typical day for your organization entails.
A: Notice that a CBR is in need of rescue or relief may come from many sources: a shelter, a desperate owner, a veterinarian, or another rescue worker.  The contact may be in the form of a phone call, email, or through the CBRR&R owner surrender process. Once contacted, we determine if we have foster space for the dog and arrange transport and get the proper paperwork completed. Once the dog is in rescue, the foster homes are responsible for treating each foster dog as their own dog. They take them to vet appointments, walk them, socialize them, teach them house manners, crate training and house training, actually provide whatever training the dog needs to be successful in its new home; play fetch, take them swimming – whatever the dog enjoys and needs to be a happy pup.  I foster as well as take care of all of the administrative issues such as talking with people who want to rehome a dog, those who want to adopt a dog, the Officers and other Regional Directors, and maintain files for each dog that we have in rescue. We also are preparing and updating biographies for each dog, getting it on our website and Facebook page. And finally, we are working the applications of families interested in adopting one of our fosters, talking to them about the breed and the individual dog and scheduling home visits with each potential adopter.
Q: How can animal lovers in the area help you in your mission? Donations? Volunteers?
A: We love volunteers as that means that we can rescue more dogs! We love donations as that means that we have to spend less time focusing on fundraising and more time to devote to the dogs.
If you are interested in becoming a volunteer or inquiring about a Chessie, use the contact information above! You can also find Chesapeake Bay Retriever Rescue and Relief, Inc. on the web by clicking here or on Facebook here. You may also find other pages dedicated to regions, like the North Central which serves this area.