Meet Crystal, Husky/Lab Mix from Taysia Blue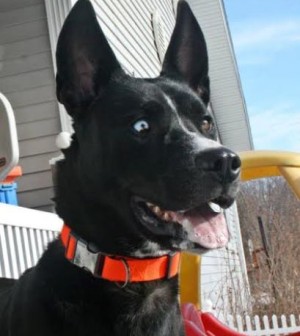 Many people have a specific breed they are looking for when adopting a dog and, luckily, there are several rescues dedicated to specific breeds, making it easy for to get the perfect, most loving dog. We absolutely love that and no one should feel badly about waiting for that dream dog to come along.
In our latest Adoptable Pets feature, we are highlighting a dog that has ill-fatedly been playing the waiting game, looking for a home for too long.
People seem to love huskies; they are beautiful dogs. A lot of people love labs; they are incredibly smart dogs. The two combined make a beautifully smart, rambunctious ball of joy.
One in particular we know as Crystal.
With a pure black coat, one icy blue eye (the other's brown) and great bill of health, Crystal is in great shape to find her forever home.  We are hoping to find that special someone looking for a dog to come forever home. Crystal is currently being fostered with Taysia Blue Siberian Husky Rescue.
Young Crystal is somewhere between 1 and 2 years of age. She plays hard and is very affectionate. She is a happy outgoing girl that would benefit with some obedience classes to help with her manners.  She would do best with a good routine and daily walks and maybe even a run. She is a little picky when choosing her playmates, so a slow introduction to a dog with her same energy level would be best and she is not recommended for a home with small dogs or cats.
If you are interested in learning more about Crystal click here. If you know of someone that may be perfect for Crystal, please share!
Are you a rescue or shelter operation in the area? Have an animal that can't seem to find its new home? We'd love to help promote your pup or kitty! Use the info and/or contact form on the More —> Contact Us page to talk with our editorial staff.