Meet Dana Thelander, animal advocate and rescuer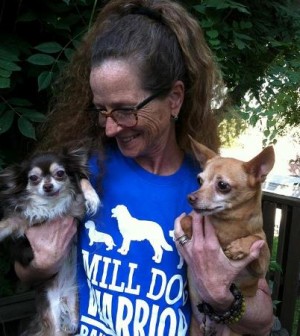 If Hollywood were to create a new superhero franchise and cast everyday folks who turn into animal advocates and save the day, it would want Dana Thelander to play a part. She's a sort of Clark Kent; an unassuming Direct Mail Marketer during the day, then animal savior when she clocks out.
She's got a perfect superhero backstory, too. Once a customer of the infamous Tully's Kennels in Omaha, she's learned the truth about pet stores that sell puppies. Now, she educates people on what she knows today, advocates for all kinds of animals, and encourages everyone to be compassionate and responsible pet owners and consumers. Her only weakness (as all heroes are prone to at least one thing) is her inability to live anywhere warm. That said, villains are going to have a rough go of it trying to keep Dana from being a big voice and doer for animals.
After she purchased a dog from Tully's years ago, Dana was introduced to the puppy mill conversation. The puppy she purchased started having seizures at four months old and was later diagnosed with liver and kidney dysfunction/disease. "Our vet's comment was our little guy was a victim of bad breeding, and a genetic nightmare. Tully's denied buying from bad breeders or mills and offered to give me another puppy," she says.
Twelve years later, that pet store pup is still around, albeit with heart disease added to his list of maladies. "We've kept him going with pills, kisses, and a wonderful vet. Although he got out of the mill as a puppy, his parents probably never did," she knows.
Between her full-time job, the two part-time gigs she's got, the half-dozen animals she's has at home, and her full rescue schedule, she's perpetually short on time. "I don't have much free time left, but have found that in the face of an emergency, I can always find enough," she says, speaking of taking on her latest interest- Wildlife Rehab. "I get as much enjoyment watching my yard rabbits (even when they eat my hostas), squirrels, and my newly-discovered resident opossum as I do from my dogs and cat." Supervillains beware: she's here for all the animals.
Dana is an Omaha native and takes great pride in impacting her community. She spent 15 years away from the Big O (New York, Minneapolis), but ended up back home. "I've always thought it was a karmic joke that I've only lived in places that have cold winters. All beautiful and wonderful cities, but I'm pretty sure I'm supposed to be in Arizona or New Mexico."
As a four-year-old, her much-loved calico cat delivered kittens in between Dana's legs while she was sleeping. "My mother would move her and the kittens into the lovely, secluded box she had set up for her, but every time I would take a nap or go to bed for the night, my cat would move all six kittens back into bed with me." Her calico must have sensed something about Dana's animal-loving DNA. Her family always had dogs, but they were bonded to her parents. She grew up thinking she was a cat person. When her son was born, Dana added a dog to her new family. "Of course, all kids need to grow up with a dog and cat," she says.
She's raised a family and many animals along the way. Today, Dana works at Hayneedle.com in the Direct Mail Marketing department. She's got two part-time jobs, but every spare moment is spent in rescue. "I have the same desire as most of the people I know in rescue- I need to win the lottery so I can volunteer and rescue full-time!"
She's one of the Nebraska Chapter Leads for Bailing Out Benji and Puppy Mill Free Nebraska. (Like its Facebook page here). The Lead Team also includes Terra Henggeler, who pulls double duty with Pug Partners, and Tiphany Lane in Lincoln, who also works with Revolution Rescue. "It takes all of us to keep everything organized and on-track," she says.
Bailing Out Benji is an advocacy and educational organization that deals specifically with educating the public about the pet store connection to puppy mills and why it is so critically important to not support the pet store puppy business model. The mission is to promote adoption, rescue, and shopping in only humane pet stores like the Green Spot, Pets Earth, That Dog Wash, and others that support rescue. Bailing Out Benji's founder, Mindi Callison, has been able to develop relationships with puppy mills willing to release their "spent" or ill-breeding dogs to her and eventually rescues. "We've been able to pull hundreds of breeding adults and puppies out of mills this year alone," Dana says. "We work with our Rescue Partners throughout the Midwest to get these dogs placed in foster homes, get them thoroughly vetted and healthy, and taught how to be safe, loved, and pampered pets."
Dana always loved animals and wanted to advocate for them, but was finally driven to action when she met Mindi Callison at the Ames, Iowa screening of Dog By Dog in August of 2015. "When I first saw Dog By Dog, I was confronted with the complicity of the AKC, of how powerless the USDA was to regulate mills, and how prevalent the mill problem is throughout the United States. To add insult to injury, every bit of this is perfectly legal and often financed by our tax dollars through agricultural subsidies," she says. "And then I saw what a 20-something-year-old named Mindi was accomplishing with her organization, bringing this all out of the shadows with facts and proof." Dana had to get involved.
It took her a long time to get to that special documentary screening on that special day, and the result of having her eyes opened to what was being orchestrated through pet stores was life-changing. It's not an easy lesson for people and some don't change, even knowing what's going on. Dana didn't stand idly by any longer.
Puppy Mill Free Nebraska is only about a year old and growing; its Facebook presence takes a good amount of time for Dana. In addition to what is seen on the front-facing Facebook page, Dana and partners have numerous conversations going on in the background.
With the help of Bailing Out Benji's Nebraska and Iowa Team Leads and volunteers, Dana and company have been able to document the puppy mills that area puppy stores like Tully's, Pets R Us, Pet Doctor in Lincoln, The Bird Cage in Council Bluffs, and the Velvet Poodle (Sioux City) purchase from. "Much of my time is involved with researching information we gather to document store/mill connections," she says. "The goal is to present facts as we educate people at events we attend." Dana tries to attend and have an educational table at various events a couple of times per month.
Armed with documentation of facts, Bailing Out Benji teams organize peaceful protests of area puppy stores to educate people about the mill connections and to encourage people to be knowledgeable consumers. It's especially important to the groups to educate of being better consumers, especially in adding an animal family member.
Dana also researches the backgrounds of dogs that are purchased at stores. Often, owners are devastated to find out they have been lied to by stores. Most times, the newly-enlightened people become the fiercest advocates for mill dogs and move forward educating their circles. Dana is proof of that happening for sure.
In order to support the missions of rescues, shelters, and advocacy groups,  fundraising is a critical component. "Everything we do is 100 percent volunteer-based and funding is always needed to print literature, get billboards and ads out into the community, and support special projects such as getting much needed aid and supplies to, for example, the Bailing Out Benji Texas Team post-Hurricane Harvey. And speaking of billboard, Bailing Out Benji is proud to announce that this Puppy Mill Awareness month will be getting its first Nebraska billboards up in the next couple of weeks. Belle, the mill survivor in the initial billboard is one of Dana's mill pups. Belle is mostly blind and was just put on meds for a high grade heart murmur, but she is as happy as she looks in the billboard. "We are so excited about the visibility these will bring," Dana says.
Dana's greatest reward is helping. "I've gotten to know some of the most incredible people," she says. "It's rewarding to be able to assist and be involved with their projects. These relationships really illustrate a community working together for the greater good."
"We are a small but mighty organization in Nebraska, and with consistent growth and visibility, we will reach and educate more and more people," she says. "A change in consumer behaviors is what will put puppy stores out of business, but we also have to educate about the surge of online websites that are selling mill dogs with pretty homepages and similar claims of 'we sell puppies from reputable breeders,'" she says. Reputable breeders are out there, but it takes time and patience to identify them. These reputable breeders would never sell their puppies in a pet store.
On top of continuing to educate adults who have the ability to purchase puppies, Dana hopes to reach more young people. "I am really wanting to start doing Bailing Out Benji age-appropriate educational outreach in schools, scouting and school clubs. When I see how passionate some of our youth are – joining us at protests, fundraising and really getting involved at a young age – it gives me hope for a future with no puppy mills and advocates for the humane treatment of all animals," she says. Educating consumers of today is important, but educating those of tomorrow is necessary as well, she knows.
If all those young folks can keep their passion and do as much as Dana, the future for animals is looking bright. She's brightened the lives of many, including her five senior/special needs dogs and one senior cat. "My kitchen counter looks like a pharmacy with all the meds, eye drops, syringes and special diets," she says. "I have always rooted for the underdog, and it has been my personal choice to adopt the seniors and medical needs dogs that otherwise may not have had much of a chance of getting into a home." Three of her pups spent their first years in a mill. She works each day to make their lives as great as possible. She says the best part of my day is when she walks in the front door to see the five-minute routine of "she's home, she came back, I want to go out, no I want to come in, no out…on an on." It's all in a day's work for this rescue hero.
"Glorious chaos" is not something all of us want to describe our lives as, but it's what each day brings for Dana. It's one reward for all the work she puts in for animals everywhere.
Dana has found an organization that she admires and has become a big part of it. If you'd like to give your time and support, get active and see how you can help. "Whether it's an hour, a day, a weekend- there is so much to be done," she says. "And we are getting it done!"