Meet Doberman Rescue of Nebraska!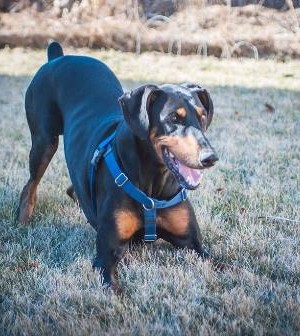 Doberman Rescue in Nebraska is the latest group to be featured in our Rescue Friends series. Enjoy learning about the group and discover how you can volunteer, donate and raise awareness for this rescue and others in this series!
Q: What is your organization called and where are you located?
A: Doberman Rescue of Nebraska (DRON) Omaha and Lincoln Nebraska.
Q: When, why and by whom was the organization founded?
A: Our group was founded over 30 years ago by people who were touched by the Doberman breed and dedicated themselves to giving second chances to those they could.
Q: Are there board members, a president or officers for your group? Who are they and what do they mean to the group's success?
A: DRON is made up of our President, Holli Sampson, Vice President Lisa Taylor, Treasurer Jerry Sorbel, Secretary Stephanie Auschwitz and Board Members Jay Wise, Kevin Jespersen, Kirk Sampson, Cory Porter and Mike Caniglia. We've also got two trainers in Stephanie Auschwitz and Patrick Ryan. Holli Sampson and Jay Wise handle our newsletter, Lisa Taylor is our adoption coordinator and Holli also acts as our correspondence secretary. There are many other wonderful volunteers who work tirelessly to save lives!
Q: What is your organization's mission and how do you execute it?
A: Doberman Rescue of Nebraska, Inc. is a non-profit organization which rescues Dobermans from shelters and owners who cannot or will not provide for them and those who are strays whose owners never try to locate them. The rescued dogs we take in go directly to a veterinarian for a spay/neuter, vaccinations and any other necessary medical treatments. From the veterinarian, the dog usually goes into foster care. Once there, the foster parents work with the dog to achieve basic obedience, housebreaking, overcoming any fears that may result in undesirable behavior and proper socialization. Many of these dogs have been neglected, not only in a nutritional/medical sense, but also in a psychological/emotional sense. The socialization process promotes the dog's confidence, willingness to learn and trust. For many dogs, this is the first love and kindness that they have ever known.
Q: How many people volunteer for your organization?
A: Currently, we have 36 wonderful volunteers helping to save and place Dobermans.
Q: How many animals do you rescue, foster and place in a year?
A: In an average year, 35 Dobermans make their way into our care.
Q: Tell us what a typical day for your organization entails.
A: An average day includes addressing emails from shelters who have dogs they would like to place, processing applications (interviews, checking references, home checks and introductions), checking up on adopted dogs, giving/receiving feedback for dogs available for adoption as well as maintaining  vet appointments, scheduled showings and anything else that is brought to our attention.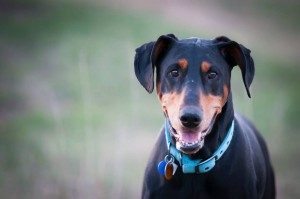 Q: How can animal lovers in the area help you in your mission? Donations? Volunteers?
A: We are always looking for those in the community who can foster.  We show every Saturday and would be grateful for extra hands to help out.  Volunteers can also taxi adoptable dogs to vet appointments, help with out of state transportation or spend some time taking a dog who has not found a foster home out for a walk. Of course, we also accept donations to help pay for food and veterinary care.
If you'd like to find out more about Doberman Rescue of Nebraska, visit  their website here.  The group is excited to revamp its website and the new page is scheduled to roll out this summer. You can also find the group on Facebook by clicking here.
Want to donate to Doberman Rescue of Nebraska or contact the group? Here's the physical address:
Doberman Rescue Of Nebraska, Inc.
POB 390684
OMAHA NE  68139-0684
If you'd like to contact the group on the web, visit their website or Facebook links above or email dron95@yahoo.com. The phone contact number for the rescue is 402.614.4495
Thanks to Doberman Rescue of Nebraska for sharing! Stay tuned for more Rescue Friends articles by checking our Rescue page, following us on Facebook, Twitter and Instagram (@pets_in_omaha).