Meet DOGonGear and explore its products!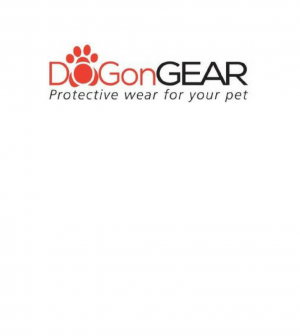 DOGonGear is an online retailer specializing in protective gear for your dogs. If you aren't already, you'll want to become familiar with the comapny.
Whether it's a hunting vest, a doggie wrap for your pups, or a handmade jacket,  you'll find what you're looking for at www.dogongear.com. Don't think you are a potential customer of theirs? Maybe think again. After speaking with Dawn Howell, we're sure that at some point, you'll have a situation where her products will be not only useful but essential.
Likely her most widely-sold product is her doggie wrap. If your dog wears a diaper (or a pad, which fits in DOGonGear's wraps), you'll want to try these products out. And if your dog doesn't wear a diaper or pad, perhaps it should or could for these reasons:
incontinence
when dogs are put on certain medications, a little leakage is common
if your dog is a chronic marker or "leg lifter" as Dawn says, the preventative wrap may be a good idea. Think about it: when a dog enters a new place, especially if it contains dogs or doggie smells, what's the first thing it wants to do? Mark.
medical necessities (like surgery) can prevent a dog from being able to go outside
Cushing's disease leaves dogs with no control over their bladder
hip dysplasia can cause issues
Think of how many dogs have been in the pet-friendly hotels you frequent. And think about the deposits you have to pay to have a dog in your room. It's an obvious occasion to at least give a wrap a try.
"Our wraps are more of a swaddler," she says, "providing comfort while still being very durable." If you have had any experience with products like doggie wraps, it would behoove you to give hers a try and see the difference.
If you are a hunter, you'll be hard pressed to find a hunting vest for your dog that's more revolutionary and durable than Dawn's. A few hundred hunters used the vests on their dogs this past winter season and reviews were amazing. Three layers of fabric built in to these vests protect your dog's underbelly, chest, private parts and more. Burrs, brush, ragweed and other irritants don't stand a chance. And if your dog tussles with barbed wire, you can feel safe knowing that the wire will likely cut through one layer, maybe two; but before any damage can come to your hunting dog, that wire needs to get through the third layer, and by then, will likely cause little to no harm.
"The vests definitely take the brunt of the wire," Dawn says. "With the three layers of durable fabric, there's no better product out there to protect your dog from everything it will encounter out there in the field."
A short run of these vests were manufactured in October and very few are left, Dawn says. She's got a manufacturer, financial means and support, and a goal to enter into the big retail stores we all know like Cabela's and Scheels. She seen as "too small" at this point, but the successful run of vests this winter puts her into a good position going forward.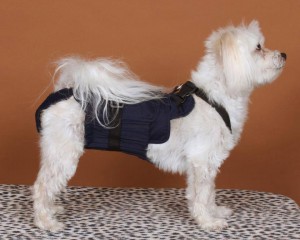 "The vests are a great idea for people who don't hunt, too," she says. The color will help your dog stand out while walking at night. Farm dogs that roam will be protected and more easily seen in the vests. Search and rescue dogs will also benefit from wearing this elite technological product that protects your four-legged friends and service dogs.
Handmade jackets are another product that separates Dawn's gear from others. Their intricate design will fit any dog from small to extra large. In fact, the largest vest is guaranteed to fit dogs up to 250 lbs. Cutting lines allow owners to have a perfect fit in the belt. The handmade quality is second to none. And again, this is just one of Dawn's many cutting edge and patented products.
In addition to garments and accessories, DOGonGEAR's website features trends in protective apparel and helpful hunting videos you can use to get ready for hunting season.
If you're debating whether to think about trying DOGon's wraps or vests still, know that buying from Dawn means you're buying from a family business. Once you try the products, however, especially the vests, you'll see the difference in quality. She's got the patent on the vest's technology to boot, so things are looking up.
The company is an affiliate for PetSmart and its products can be found online and at trade shows around the country like The Great Iowa Pet Expo, where we first met Dawn and company. Read a bit about Dawn and her family on the company's About Us page. There you'll also be able to read mission statements and get product info about some of DOGonGEAR's most popular items.
Help us welcome DOGonGEAR, check out their website here and follow the company on Facebook!