Meet DeFord Family Dental and resident service dog Max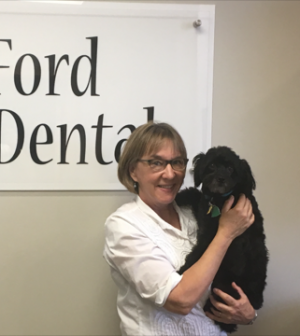 When choosing an office for your family's dental care, there are a few things to consider. Insurance, location, experience, comfort are a few. DeFord Family Dental has a few unique things going for it (on top of providing only the best care) in that when you come in for an appointment, you'll get Dr. Kathy DeFord and no one else. Familiarity breeds comfort. Also, you'll be treated by a team that includes a service dog. Yes, Max the dog is a DeFord Family Dental employee and he's been met with nothing but positivity from clients.
Meet Dr. DeFord
Dr. Kathy DeFord grew up in central Massachusetts, the third child of a florist and an artist. Of all her siblings, she was the one most likely to be upstairs reading a book while the rest of the family watched TV, she says. "All of my siblings inherited some of mother's artistic ability and pursued careers that were related in some way to art," Dr. DeFord says. She was the brainiest kid in her family and combined art with science and became a dentist.
Dr. DeFord spent most of her young, married years as a stay-at-home mother to four children. People often ask her why she chose to become a dentist. In her own words: "When our children were all in school, I got a part time job working in a dental office doing light office work. Occasionally the dentist would have me help him with a patient when his dental assistant was busy. I loved those times. I asked him if he would train me in dental assisting, and he agreed. One evening when my husband David and I were sitting at the dinner table chatting about the day's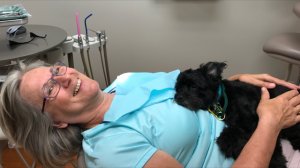 events, I mentioned casually that if I could have any job, I would work as a dentist. At that moment I had a silent but strong impression that this was something I should pursue. I hadn't been in school for over 20 years, so I returned to Houston Community College to brush up, and eventually was accepted into the Honor's College at the University of Houston. I graduated from Creighton School of Dentistry in 2001, the same year two of our sons graduated from college and when our youngest son graduated from high school. I spent several years with a group dental practice, Dundee Family Dental, before opening DeFord Family Dental in Papillion. I really enjoy my work." Just like some people say it's comforting, or therapeutic to sew, knit or work on another type of project, Dr. DeFord finds comfort in fixing teeth. She especially likes working to improve the look of someone's smile. "I realize many people have had traumatic experiences with dentists in the past and need a little extra TLC. I have a calm demeanor that many people find comforting and reassuring," she says. Dr. DeFord's husband David has worked in management information systems in the past and now has his own consulting business, David DeFord Creative Consulting.
What sets DeFord Family Dental apart from other dentists?
DeFord Family Dental is locally owned. The dental office is small, personal, and friendly. Also, there's Max the service dog. A dentist with a dog that can help patients relax during their visits? You bet! The DeFords adopted Max from Muddy Paws Second Chance Rescue in June of 2017. From the beginning, he was well behaved and friendly. "We decided to put him into a two-week basic obedience class to help him behave while in the office," Dr. DeFord says. He spent two weeks with Johanna Mayer at Follow Me K9 Obedience Training in Bellevue. "Max loves people and, at a patient's request, will hop onto their lap, lay down and snuggle for the duration of the dental appointment." Max lives at the DeFord house when he's not at work. During the summer, before doggie school, Dr. DeFord's son's family came to visit for a few days from Louisiana. They have seven kids, and were all over Max. He loved the kids and was very accommodating. No growling or nipping. Just very friendly. "So far, we have had nothing but positive comments from our patients about having an office dog. They love him and think we are the best office in the world for having a dog."
What services are offered at DeFord Family Dental?
Dr. DeFord has a gentle touch, and will educate you on how to make healthy, informed decisions regarding your oral care. Some of the services Dr. DeFord provides are:
Exams
Cleanings
Fillings
Cosmetic dentistry (veneers etc.)
Low radiation, digital x-rays
Root canals
Extractions
Dentures
Crowns
Bridges
Teeth whitening
Invisible braces
Emergency services
And more… If you're anxious about visiting the dentist, DeFord is a safe and comfortable place that even offers hypnotherapy to those seeking a little calm before appointments. Roxanna and Laura are Dr. DeFord's dental assistants; Brandy is the office's dental hygienist.   For your next dental visit, consider giving DeFord Family Dental (and Max!) a look. What better way to improve your dentist visit than to have the company of a fluffy and cuddly pooch like Max?
How you can follow Max and company, learn more about DeFord Family Dental, and schedule a visit
Check out DeFord Family Dental on Facebook by clicking here. Also, there's more to know at the DeFord Family Dental website found here.
Good news– Looking for dental products and services in the Jacksonville Beach, FL area? Check out Eccella Smiles!