Meet Elizabeth Jorgensen of Adopt Omaha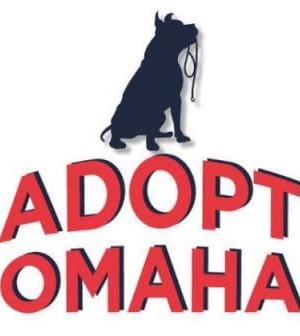 A few years ago while in Manhattan, KS, Elizabeth Jorgenson became involved with animal rescue by donating her graphic design services and amateur photo skills to the Riley County Humane Society. She had recently received a degree in design from Kansas State University. She found this experience to be extremely fulfilling and soon became a board member and short-term foster home for dogs in her organization.
Fast forward to 2012- she and her husband moved to Omaha to start a small business called Red Dirt Running Company. After getting settled and remembering her time with pets in Kansas, she reached out for opportunities to volunteer with rescue groups in the Omaha area. "I didn't realize just how big our rescue community was," she said. Surprisingly, she was told by several groups that additional volunteers weren't needed. Unknowing of the prevalence of shelters and rescue organizations in Omaha, her rejections made little sense to her. She thinks perhaps she wasn't wanted because she couldn't at the time be a foster home. "Gotta love apartment living," she says.

Still, her urge to help advocate for animals was strong and she started "Adopt Omaha." Adopt Omaha's mission is to support animal rescue efforts in the Greater Omaha Area by providing rescue organizations and individuals with quality images of adoptable pets and by advocating for each pet's adoption through sharing pet biographies and photos on the Adopt Omaha website and social media accounts.  "Photographing the pets is the main thing," she says. "The blog and resource pages are just extra fun stuff to support families through the adoption process and as successful fur-families later on."
She currently features pet profiles for adoptable pets in the Greater Omaha Area from a variety of rescue groups and individuals on her Web site and social media networks. A growing list of rescue groups and dog trainers can also be found on Adopt Omaha's Web site. Jorgenson says that "this resource has grown to include links to dog parks, short term and long term boarding facilities and local pet boutiques." She's contacted several foster homes and families of successful pet adoptions who, she hopes, will agree to share their stories and photos on the blog. "This is my hobby. I saw an opportunity to be a voice for adoptable pets in our area and to expand on my photography hobby, so I decided to jump in and take it!"
Adopt Omaha was born in early 2014. Jorgenson's weekdays are spent working for a national pet care supply manufacturer in Omaha (and going to Crossfit).  On her weekends, she tries to schedule time to meet with foster pets or attend local animal-related events and fundraisers. "I've met some amazing people and some incredible pets over the last few months. I am just amazed that these volunteers commit so much time and energy and money to provide happy lives for abandoned animals. I hope to get more involved again someday as a foster home, but until then I'll just continue volunteering in my own special way."
We're sure her passion is strong, so the future for foster pets and Jorgenson is bright; her volunteering and presence at area pet community events and fundraisers is admirable.
There are many pet advocate Web sites, organizations, Facebook pages, non-profits and more in and around Omaha, but Jorgenson "isn't entirely sure that someone doesn't already have her same resources and goals. I don't think I've really seen this yet at a local level."
We at Pets in Omaha have some similar goals, but admire her willingness to become a bigger foster advocate. When asked about a great success story, Jorgenson indicated that Adopt Omaha is still so new (only having a website since the start of April) that she doesn't have any earth-shattering tales to tell at this point, but a few months down the road, she knows she has  potential and believes she can make a difference soon. "I've just got to work hard and be patient!" she says.
She does, however, remember a special story from her time before starting Adopt Omaha. "I did get pretty attached to a pup named Junior back in January. He was a typical "scaredy dog" that had missed out on a lot of important socialization as a puppy. To add to his skiddish behavior, he was a pit bull mix. I personally love pit mixes and see myself with one someday, though they tend to have poor reputations (BSL in Council Bluffs and muzzle laws in Omaha) and people are deterred from learning about these furkids. It's a shame, really, because I've known them to be some of the kindest souls."
Junior was a kind soul that needed a lot of work and an experienced family. Jorgenson photographed him several times and felt so much more for him each time they met. "I have no idea if the photos I took of him helped him get adopted, and to be honest, they probably didn't, but his photos got passed around and he did finally get adopted into a wonderfully loving home. I look forward to seeing updates from the family and perhaps even blogging about them!" His case was the "cherry on top of the sundae" that convinced Jorgenson to start Adopt Omaha.
"I just thought, if I could reach more people and if people trusted me, I could help more dogs like this get adopted faster, in turn, saving more dogs more quickly."
If you are a rescue group and have a dog you want to adopt out or know of anyone who Jorgenson could help, Adopt Omaha can be found on Facebook, Instagram, and Twitter  as well as online at www.adoptomaha.com
Some other notes on Jorgenson and Adopt Omaha: "I've always wanted to volunteer as a HeARTs Speak photographer. I was preparing my application at one point, when I maintained a personal portfolio Web site used during my job hunt in Omaha, but I decided to rework things a bit. The only people that had cause to visit my personal website were family and prospective employers. Now, I have a great job with wonderful people and there's really no need to have a portfolio site with an animal-rescue add-on. Instead, I decided to devote a special Web site and social media presence to this hobby. I still dream of volunteering for HeARTs Speak, however, I think I'll work on networking, growing a following, and improving on my photography skills before I make the jump to HeARTs Speak."
Check out some of the wonderful images Jorgenson has taken of adoptable pets in the gallery below.
She would absolutely love to hear and share stories from foster and adoptive homes. She sees so many sad stories about animal cruelty that she just doesn't like to read the news anymore. Instead of focusing on the bad, she says, "let's focus on the good and share stories about what happens when people come together to save a pet!"
If anyone is interested in writing a guest-blog post for Adopt Omaha, they are welcome to contact her via the contact form on the website.
It is early, and Adopt Omaha is very new to the pet community, but we are proud to have a person like Elizabeth Jorgenson around to further advocacy efforts. We all advocate for adoption, but with her and Adopt Omaha's help, maybe we can all speed the process up a bit and give pets just a little more time in their forever homes.