Meet Golden Retriever Rescue in Nebraska!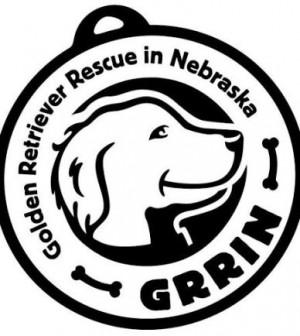 We at Pets in Omaha thank you for your interest in our community's rescue organizations! We've recently had the chance to speak with Barb Garrett of Golden Retriever Rescue in Nebraska and hope you help us help them in providing them with the three things all rescues need: donations, volunteerism and heightened awareness. Meet GRRIN!
Q: What is your organization called and where are you located?
A: We are Golden Retriever Rescue in Nebraska (GRRIN) and we're located in the Omaha/Lincoln area. We have a PO Box only, no office space (PO Box 126, Boys Town, NE 68010).
Q: When, why and by whom was the organization founded?
A: GRRIN was founded in 1992 and is a registered 501(c) (3) nonprofit organization.   In the early '90s, a few reputable local breeders of Golden Retrievers were being contacted about dogs in need of new homes.  At the time, there were few private rescues and families had no option but to leave a pet in a shelter.  The breeders decided to form a volunteer group to house and re-home Golden Retrievers – GRRIN was born!
Q: Are there board members, a president or officers for your group? Who are they and what do they mean to the group's success?
A: GRRIN has always had a board of officers. Currently, there are four officers, seven at-large members and Joe Muller is the president of the organization.  All eleven directors play a crucial part in GRRIN's success, handling everything from funds to fundraising, rescue to outreach, and membership to managing volunteers.
Q: What is your organization's mission and how do you execute it?
A: GRRIN's mission is three-fold. Our all-volunteer program provides a network to shelter, rehabilitate and rehome Golden Retrievers who are displaced due to family circumstances or other needs. GRRIN volunteers provide foster care for Goldens until they can be matched to prospective owners who are carefully screened to provide permanent homes. GRRIN's second function is to provide public education about responsible dog ownership and, in particular, about the Golden Retriever breed.  Knowledgeable members are happy to answer questions and refer people to reputable sources of information. Finally, GRRIN provides a forum for lovers of the breed to meet and share their knowledge and experience.  While GRRIN is invited to several locations throughout the year to provide information and showcase foster dogs, the annual Gold Rush festival is the highly favored event hosted by GRRIN with the intention of giving a fun day to supporters and the community.
Q: How many people volunteer for your organization?
A: GRRIN has 15 coordinators that handle various aspects of rescue with another 40-50 volunteers who give their time as needed.  This includes folks who foster, assess and transport incoming dogs, conduct phone interviews, make home visits and man our event tables.
Q: How many animals do you rescue, foster and place in a year?
A: Since 1992 we've averaged 50 dogs per year, but 2014 will end with 36 new dogs coming through the system and 28 adoptions.  Our foster homes were almost empty and then we dealt with three quick rescues over Christmas.  All dogs are fostered in private homes; some dogs will stay in foster care permanently due to physical issues.  GRRIN is extremely lucky to have foster families and generous donors that provide funds for this type of care.
Q: Tell us what a typical day for your organization entails.
A: On a typical day, volunteers will be returning emails and phone calls from our Goldline.  Generally, a volunteer has been tasked to meet an incoming dog, transport a dog from a surrendering owner to the vet and foster home, or meet a family that has applied to adopt.  A lot of work is conducted via email, which makes everything move faster than when we used hard copy documents and snail mail.  Communication between coordinators and volunteers is key for each foster dog, making sure each Golden has needed vet care, training issues are solved, and GRRIN is moving to get a dog ready for adoption.  In addition, regular communication with the families who want to adopt allows us to learn more about them and what type of dog would be the best fit for several years to come.
Q: How can animal lovers in the area help you in your mission? Donations? Volunteers?
A: To best achieve our rescue mission, we can always use more foster homes!  We do not have a facility to house incoming dogs and we rely upon the number of available foster families to take dogs who might have separation anxiety, medical issues, or just need basic house manners. Donations are always welcome because they give us the freedom to accept dogs that need expensive veterinary treatment.  Those donations also fill the gap between what an adoption fee covers and the average cost of each dog's care, which is over $300.  We love having volunteers who want to help in all areas of rescue and administration – whether they have a little or a lot of time, we've probably got the right job that will help our mission. Animal lovers can help by getting the word out to families that we are available to foster and find a new home for a Golden Retriever in need.  It's surprising how many people have not heard about our rescue group even though we have been around for over 20 years, have a website, and use Petfinder and Facebook.  In the last two years, people have started turning to social media to personally re-home a pet.  Craig's List and private Facebook pet pages have become a popular way to share a pet's information and screen interested parties.  Unfortunately, once you give your pet to a stranger you can no longer guarantee its future.  GRRIN requires adopters to have fenced yards, have pets live indoors and be treated as a member of the family, and they must sign a contract that requires them to return a dog to GRRIN if for any reason they can no longer keep it.  Our mantra is "Once a GRRIN dog, always a GRRIN dog."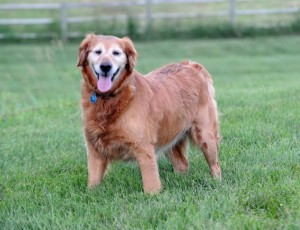 Thanks to GRRIN for sharing their story! We hope this information will inspire you to reach out and help this rescue and any others you may feel compelled to help. Please share this story with anyone who loves Goldens and together we can help GRRIN meet goals and execute its mission.