Meet Great Plains Pointer Rescue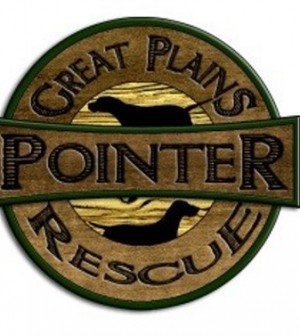 The word must be getting out! A few months ago, we made it a point of emphasis to meet the people who run and volunteer for area rescue groups. Until recently we've had to initiate contact, but slowly, rescue groups are hearing about what we do to raise awareness, promote volunteerism and encourage donations. The latest group to inquire about being featured is the Great Plains Pointer Rescue and, like with all rescue organizations, we are very proud to tell readers about them.
Read our question and answer session with Great Plains Pointer Rescue, seek them out for volunteer or adoption opportunities and stay tuned for more about this wonderful organization!
Q: What is your organization called and where are you located?
A: We are Great Plains Pointer Rescue. We originally started in Omaha, NE and have since expanded to all of NE, IA and MN.
Q: When, why and by whom was the organization founded?
A: Great Plains was founded by Janelle Ford in 2008 in honor and memory of her own rescued German Shorthaired Pointer, Ace. Initially, we were "German Shorthair Rescue of Nebraska." We soon started helping in Iowa and Minnesota and have wonderful breed-loving, non-paid volunteers in all states.
Q: Are there board members, a president or officers for your group? Who are they and what do they mean to the group's success?
A: Yes, we have 4 board members and main directors. Janelle Ford is the Founder and President, and the states of NE, IA, and MN all have their own directors who run and oversee the dogs, adoptions, and foster homes. They are key in supporting the backbone of GPPR.
Q: What is your organization's mission and how do you execute it?
A: Our mission is to provide rescue and re-homing to displaced German Shorthairs and Pointers who find themselves in shelter situations. We are not about fast adoptions. We carry high ethics, provide valuable breed education, and want to ensure a successful adoption for everyone.  At GPPR, we take pride in helping German Shorthairs and Pointers in many situations. All of our dogs receive full vet care in our program from minor to major medical issues. We provide all vetting records to adopters. Our main goal is to find loving and committed homes for our dogs. We take adoption seriously. Most of the dogs that enter our program have already been abandoned, bounced from home to home, or from different shelters. Our rescue program consists of foster homes where the dogs live indoors with families and receive training, social skills, and love. Adopters are able to ask questions and understand how a dog is in a home environment.
Q: We know how important volunteerism is to you and other rescues. How many people volunteer for your organization?
A: We have over 60 fantastic volunteers in a total of three states.
Q: How many animals do you rescue, foster and place in a year?
A: On average, we place just over 100 dogs in any given year.
Q: Tell us what a typical day for your organization entails.
A: In any given day, there is a lot of volunteer communication, check ins, foster updates, answering many emails about surrenders as well as adoptions, updating our website and Facebook Page – this is almost daily. We take pride in efficiency and helping people with questions.
Q: How can animal lovers in the area help you in your mission? Donations? Volunteers?
A: There are so many ways to help! From fostering to helping at events to just spreading the word of GPPR, you can help GPPR. Our volunteer opportunities and other ways to help can be found  http://www.greatpointers.org/info/display?PageID=9098 and  http://www.greatpointers.org/info/display?PageID=10899
Donations can be made through the website directly via paypal at  http://www.greatpointers.org/info/donate or also mailed to the following address:
GPPR C/O Janelle
12910 Pierce St Ste 300
Omaha NE 68144
If you'd like (do it!) follow Great Plains Pointer Rescue on the web and through social media. Below are links to their pages.
Facebook Page: https://www.facebook.com/Gpprfriends
Website: http://www.greatpointers.org/ (Contact information is also included on the website and FB and you may use my email for any correspondence)
Twitter: https://twitter.com/@GPPRescue
Instagram: http://instagram.com/greatpointers
Packdog: http://packdog.com/rescue/greatpointers
Thanks to Great Plains Pointer Rescue for allowing us to profile them! If any readers are willing to help, please contact them using the links above. Remember, volunteerism, donations and awareness are the three best ways to help your local rescues, so do your best to lend a helping hand!