Meet Gretna Insurance and its pet-friendly personal service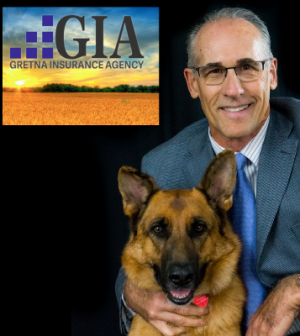 We love telling you about our Pet Partner businesses, but especially when they embrace pets as part of their business plans! Read about the personal touches Gretna Insurance provides here and the help it gets from its inhouse rescue dog, Auggie, and Luna the office cat!
Gretna Insurance is a family-run, independent Insurance Agency that has served the Omaha and Suburban Omaha area since the 1940s. Owners and siblings Jeff Mann and Janet Barna have over 70 combined years of experience in the insurance industry.
Along with the services you can expect from a great agency, it's comforting knowing that a real-life human being will always answer your phone call at Gretna Insurance. "We make it our goal to handle questions, problems, changes or claims on that first call over 90 percent of the time," says Jeff Mann. "We realize we all live in a busy world and your time is important."
The office is a pet-friendly one to boot. Auggie, Jeff's rescue dog, is the office greeter and gives love to all clients when they visit. Luna, the office cat, is often slinking around as a kitty is wont to do.
Besides handling all lines of insurance including home, auto, farm, business, life, health, long term care and medical supplement insurance, Gretna Insurance offers FIGO pet insurance. Give Gretna a call to find out your pet's monthly premium. FIGO is rated the No. 1 pet insurance company in the United States and Europe.
For more information, call Jeff or Janet at 402-332-0000. You can also find Gretna Insurance on the web at www.gretnainsuranceagency.com, and you're always welcome to drop by the office at 802 Village Square in Gretna.