Meet Hands, Hearts & Paws Rescue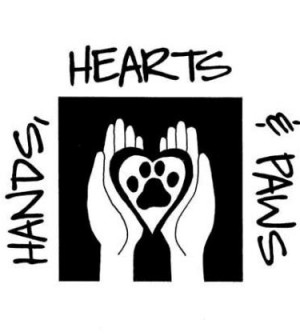 Pets in Omaha is proud to be a part of the pet community and is dedicated to spreading the word about our area's wonderful shelters and rescue organizations. Adoption is the most wonderful thing you can do for a pet, so please support your favorite Omaha area rescues and spread the word about the noble work they do!
With that said, meet Hands, Hearts & Paws- one of our Rescue Friends! Thanks to Debbie David for filling readers in about HHP.
Q: What is your organization called and where are you located?
A: We're Hands, Hearts & Paws, INC, and were an Omaha-based rescue.
Q: When, why and by whom was the organization founded?
A: I founded the group over three years ago on Sept 1, 2011. I had a vision for rescue, so I started HHP.
Q: Are there board members, a president or officers for your group? Who are they and what do they mean to the group's success?
A: I'm the president of the group and we have many volunteers that help the organization flow smoothly.
Q: What is your organization's mission and how do you execute it?
A: Our mission is to rescue, fully vet and find good homes for dogs out of kill shelters, puppy mills and other places where dogs aren't being advocated for. We take in dogs that have no one and help them find forever homes.
Q: How many people volunteer for your organization?
A: At this time, we are about 50 volunteers strong.
Q: How many animals do you rescue, foster and place in a year?
A: In 2013, we placed right around 350 dogs into adoptive homes .  We are happy to say that we will do as many and more in 2014.
Q: Tell us what a typical day for your organization entails.
A: There are many emails to send and answer, Facebook updates to give to followers, volunteers and supporters, dogs who are incoming to the rescue, dog adoptions that take place and various opportunities for us to show off our dogs in any given day. Most of our volunteers have full time jobs, but our rescue work is a full time effort (plus some). We work very hard every day to make sure our dogs are happy, healthy and socialized prior to adoption. It's hard work, but definitely satisfying.
Q: How can animal lovers in the area help you in your mission? Donations? Volunteers?
A: We are always looking for more foster homes, volunteers and transport drivers. We are grateful for just about any donations. These include, but are not limited to, cleaning supplies, bedding, towels… really anything dog-related that helps us care for adoptable animals.
Take a look at some dogs adopted in 2014 from HHP!
If you'd like to learn more about Hands, Hearts & Paws rescue, please find them on the web by clicking here.
To stay in the loop about what's happening at the rescue, be sure to follow HHP on Facebook. Make sure to follow, give them a "like" and share updates with your friends. The page is full of great news about the happenings at the rescue and you can find a list of events, Meet and Greet information and more.