Meet Indre: Owner of Long Dog Fat Cat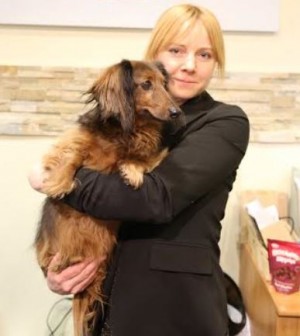 Kids of all ages from all over the world dream of that first trip to Disney World- the place where all of our favorite characters come to life. Home to our favorite princes and princesses, our favorite cartoons, glistening lights, wild rides and dreams come true.
It was no different for Indre Seibutyte, owner of Long Dog Fat Cat, a healthy pet food store and one of our pet partners.
As a little girl, Indre couldn't wait to experience one of the United States's staples. She finally got the chance after college when she and a friend packed up and made the trip. Her life-long, childhood dream came true.
Something happened while Indre was there; a spark ignited. There she was, twice a college graduate, standing in Disney World and not a clue of what she should do with her life. Suddenly, it clicked. Why not open up a natural pet food store?
So she did it.
After searching Florida and Chicago for a place to make her dream a reality, Indre decided, on Omaha- a place she was familiar with. The rent was comparatively cheap. The people are nice. There was a need for great pet food stores.
Shortly after being inspired in Florida, Indre opened up her first store at 16909 Burke street in 2009. Six years later, she opened her second location on 2501 S. 90th street.
Indre now owns two stores and has three dogs (Fritzi, Bizzi and Gosha). She lives a busy life and laughed when we asked her what she did in her free time. "Free time? What is that?"
All of that is so great, but who is Indre? Where did her passion for animals and a healthy life style come from?
Indre: a name for a Lithuanian girl.
Yes, Indre is from Lithuania, born and raised. She had very strict parents that taught her hard work from the get go. She worked for everything.
"We woke up and we worked. We did everything for ourselves. We were self reliant," said Indre.
Indre would stay at her Grandmother's farm each summer in the community of Dziugoniai. She would help her grandmother cook all day using a wood burning stove. She provided for the community. Indre and her grandmother would churn butter, mill flour, milk cows and pick fruit from trees.
"Everything you could get from a grocery store was there in the land," said Indre.
She had gardens, chickens, geese, turkey, cows and dogs, and was self sustaining in every sense of the word. Indre learned to entertain, managed tasks, celebrated every occasion with her community, and relied on the land and family values.
"Growing up in Lithuania and living in Nebraska are very similar," said Indre.
Indre came to Nebraska when she decided to attend the University of Nebraska at Omaha, which is a sister school to a local Lithuanian college. She got her degree in Arts and later got her Masters in Marketing at Missouri State.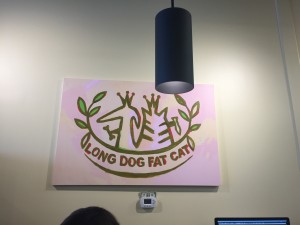 She loves designing logos and is incredibly creative, which we know because of the logo she created for her store. Her need to create something and her love for animals helped her create Long Dog Fat Cat.
Surprisingly, Indre's love for animals started in the U.S. when she was shown that animals are our companions here. They live with us, travel with us and are our confidants. In Lithuania, animals were not seen that way. Her dogs have really shown her that they aren't "just animals" and now she takes them everywhere (Gosha greeted us in the store).
The first year owning a store was a little rough for Indre. The vets didn't really help out, she said, but rescues did. Rescues recognize the importance of shopping locally and giving your animals a healthy diet (vets do too, we just have found it is advocated more by our loyal rescues). Listening to what her customers wanted and starting meet and greets with rescue groups really fueled her business.
Indre's immediate goals are to have a successful second store. "Survive the first year," she said.
Long term goals of Indre would be to start her own brand of Long Dog Fat Cat products. Currently, she makes homemade treats in her store. She wants to be as creative as possible while giving your animals a healthy diet.
"We have to be different. Cesar Milan can put his name on every Chinese product and it will sell," Indre said. "I want my own private line. We can do great things."
Education is key to growing the industry. She explores catalogs, listens to sales reps, stays close with local, natural brands. "I'm always learning."
If you want to learn more about Long Dog Fat Cat's services, such as grooming, food and homemade treats check out their website, Facebook and Twitter.
Also, check out the Directory page here at Pets in Omaha to see when rescue groups will host meet and greets and Long Dog Fat Cat stores.