Meet the team behind Omaha.dog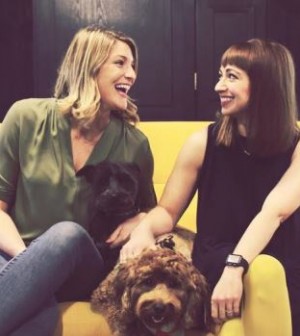 Soon after being featured in the Omaha-World-Herald in late 2015, Jeannie North and Leah Thrasher, founders of Omaha.dog, says they "knew there was huge potential to create a solution" to a problem they saw not only in their hometown, but other cities across the country. Today, the duo features over 150 dog-friendly Omaha businesses on Omaha.dog, a website dedicated to listing businesses that are dog-friendly. The number of businesses, places, and dog-friendly events keeps growing; only six months ago, the number stood at 30. And between planning the first dog fashion week, Omaha Furshion Week, for June 2016, advocating for dog-friendliness, and a site redesign, the team is busy growing the solution to problems they see in pet communities.
The need for a little more friendliness towards dogs and their owners was realized when Jeannie and her husband took a road trip to Boulder, CO with their Golden Doodle, Rue. They assumed their group would have a very dog-friendly experience. "We had plans to hike, shop and eat with our pup on the famous Pearl Street," she says, but was "disappointed when soon after parking, we were threatened with a $250 fine for having our dog with us on the shopping mall strip." All Jeannie and company wanted was to find a place to have lunch on the patio, together, so she searched online to find such a place- to no avail.  Disappointed and motivated, she went back to their hotel room and bought the Omaha.dog domain, knowing that Omaha could use a resource for dog-friendly businesses.
Upon her return home, Jeannie called up her best friend, Leah Thrasher, and asked her if she wanted to help "create a passion project to better the dog-friendliness of Omaha." Both have marketing and sales backgrounds and Jeannie had just graduated from Omaha Code School, so the tandem was fully powered to create a website and business.
Leah is the AD of Marketing for the AIM Institute. Previously, she worked at Weitz Investments in marketing and before that, at a manufacturing startup. "Throughout my career I always left time to freelance for small businesses, helping them with marketing, design and social media," she says. Jeannie and her husband own Kick Punch Creative, a micro-design agency which operates out of the Exchange Building in Downtown Omaha.
Omaha.Dog launched in September of 2015 and has grown organically through social efforts and word-of-mouth, Leah says. "The business listings grew to over 150 in 6 months. Soon, other community members in surrounding cities were reaching out for listings for dog-friendly businesses and expressed concern of the lack of friendliness."
The Omaha.dog team is truly a hometown crew, which makes all of us Omahans happy. "We were born and raised in Omaha and went to grade school and high school at Mercy High School together," they say.  Jeannie graduated from UNL, then moved to San Francisco, California. Leah lived in Orange Country, California, and came home to Omaha to graduate from Bellevue University. "We enjoyed California and all it had to offer, from culture to things to do. We moved home to continue our careers and be close to family. We always loved Omaha, but something was different when we came back. Omaha was gaining a sense of community – with niche neighborhoods, restaurants and culture. We always wanted a way contribute to the growth and progression of the community and were always looking for a way that we could continue to add and build a more attractive and engaging urban community."
The mission of Omaha.dog isn't to simply list dog-friendly places, however. The team is working to establish a "Pawsport" program here and elsewhere. "A pawsport is a dog-passport which enables dogs, who are vaccinated and behavior-tested, allowance into more businesses," Leah says. "We are continuing to do research and pull together stats, specifically within other communities that have established a more dog-friendly environment. We have polled and engaged with our followers to see if its something of need and continue to have regular meetings with local veterinarian, Drew Olson. We also have plans to meet with our local legislation and Douglas County Health department. We are currently working with Drew to help this initiative." The purpose of the program is to amend outdated health regulations regarding the allowance of dogs on patios.
The heart of Omaha.dog's focus is community and the group has been speaking with city officials and a veterinarian to help propose a change in the health regulations of Omaha. "We, and the community, want more dog-friendly businesses, parks and neighborhoods in our community," Jeannie says. "Cities like New York are evolving to the growing demand of dog-owners to which they just passed 'dining with dogs', a bill that enables dogs to dine with their owners on restaurant and bar patios. We also see the need for a nation-wide movement. Our  future development and branding will be called mycity.dog, a national resource for dog-friendly businesses and dog-specific businesses. We hope to compete along-side sites such as Yelp and Etsy."
Omaha.dog wants to be the dog resource and provide small-and-aspiring business owners the opportunity to gain exposure to an untapped customer base.
Jeannie lives in Dundee with her husband, dogs (Rue and Ripley) and cat (suki). In her free time, she enjoys everything her neighborhood has to offer, from walks to hiking to dining. Leah lives in Aksarben with her dog Riloh. She loves to travel, spend time with family, and do anything outdoors.
Follow Omaha.dog on Facebook, Twitter, Instagram and its website!
https://www.facebook.com/omahadotdog/
https://twitter.com/omahadotdog
https://www.instagram.com/omaha.dog/
feature image (Leah and Jeannie) : Melanie Lucks