Meet Jennie James of Peace of Mind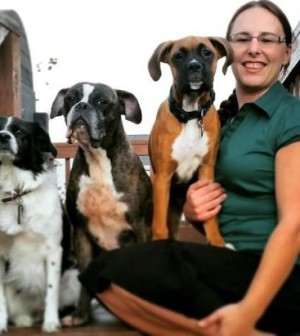 Pets need care all day, every day. And for most of us, we can't be around at every moment to provide each hug and scratch, meal and exercise time. Boarding is one option for pet owners who wish their animals to have that attention all day long, but being out of the home is a compromise one makes for that. In-home care around the clock doesn't make sense for everyone either. Jennie James, sole owner and operator of Peace of Mind In-Home Pet Care seeks to give pet owners a balanced option.
Raised on a farm in Malvern, IA, James was around animals, companion and farm, all of her youth. And when her aunt ran a house cleaning/pet sitting service, James excelled at the animal portion of that business. "I wasn't so great with the house cleaning part, but I loved caring for the animals," she says.
In 2005, pet sitting started as a hobby for James. It wasn't until ten years later that it became an enterprise for her. In 2015, she attained insurance, starting advertising and made a commitment to growing her hobby into a business.
Today, she's available from 7 a.m. until 9 p.m. for her clients, seven days a week. Whether they are working professionals, folks who travel or any combination of other things, her clients desire in-home attention for their animals. James provides that with periodic visits throughout the day. She'll visit a client's home for 15-30 minutes any number of times in a day to walk a dog, feed and water cats, give animals the attention their owners want them to get, transport to and from day care and anything else she's needed to do. What's unique about her business is the "in-home" aspect. While day care gives animals attention and care, it's not in your pet's favorite place- home.
Sometimes she visits her clients once per month; other times it's every day or once per year. She's flexible, available and tailors your animal's care to your specifications. Among about five like businesses in the area, James hopes she can make her service stand out with her newly-adapted full time efforts. Hobbyists who enjoy pet sitting are all over, too, she says. "The difference is that I love what I do. Your pets become part of my family."
Communication and reliability also separate James, she says. Peace of Mind offers online bill pay and scheduling, GPS check-ins and check-outs, pet journals that are emailed to clients and more. The care is precise and transparent, things pet owners want and deserve, she says. Whether clients want 15 or 30 minute checks or up to two-and-a-half hour hangouts, James is there.
Though her business is taking off in 2015, the future will (hopefully) look different for Peace of Mind. "I hope to grow into an acerage just outside of town, hire some employees and provide the balance of in-home care and day care services pet owners use today," James says. It's a business that's hard to find now and surely wanted by her clients, present and potential.
James writes about her services, the pet products she likes and uses and much more on her website. She also relies on social media to stay in touch and reach new audiences. And with the holidays approaching, now is a great time to take a look into Peace of Mind's In-home pet care. Find Jennie on the web at  www.peaceofmindinhomepetcareservices.com, check her out on Facebook, Twitter and Instagram (@peaceofmindinhomepetcare).