Meet Joey from Helping Hand for Animals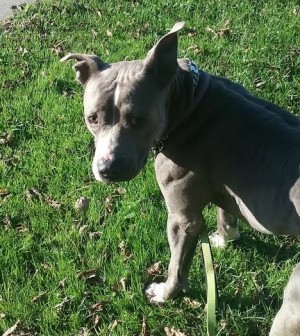 We can't possibly feature every adoptable animal in area shelters and rescues (there are thousands waiting for homes every day), but when we hear of one that has been waiting for a home for too long, we share. Meet Joey.
Joey came to rescue this summer through Helping Hand for Animals, based in Omaha. He was saved from euthanasia at a Wichita, Kansas shelter. Joey was picked up as a stray  and given little opportunity to find a home. Wichita, like many other towns, have a breed ban and a high kill ratio related to dogs like Joey. Luckily, through social media and the tireless efforts of volunteers in Kansas and surrounding states, Joey was pulled out of the shelter and put in the care of Helping Hand.
Joey was originally known as "Popeye" on the internet posts, in reference to his eye damage. To this day, he struggles to see clearly.
After he received vet care for his injuries and he was with rescuers, it became apparent Joey was never shown any affection. He's estimated to be 2 or 3 years old.
Joey, at times, becomes alarmed by sudden noise; you can feel his skin quiver a bit if you touch him when he doesn't expect it. Joey knows no basic commands, but he tries. He knows no cool tricks, but he loves, says Rose CoCo of Helping Hand.
Joey can be unpredictable around another animals, which is common for dogs with like histories. He's not outwardly aggressive and given his sight problems, he tends to be reactive to other dogs who may stand out of focus. This is why Helping Hand hopes to place him in a home with no other pets.
Joey is currently in boarding at S&B Kountry Kennels in Glenwood, Iowa. He is given as much love and care and cuddle time as can possibly be given to a dog without a forever home.
Since his 15 seconds of fame on social media, as is the case with most rescue pets, Joey has gotten no interest for adoption. No one from outside the kennel visits him save a volunteer from Helping Hand and that's only for a few hours once a week. It's time for Joey to have a home to thrive, to learn, to feel safe and loved.
Joey loves car rides more than anything. Outside of just being with people, it's his favorite thing to do. He gets upset when they leave him with only a promise they'll be back next week to see him again.
"Boarding and vet care costs do burden us with each rescue we take on," Rose CoCo with HHA explains, "but it doesn't compare to the burden we feel when dogs like Joey still wait and wait for someone to consider adopting or fostering."
Dogs in foster homes progress quickly. "Many who have fostered with us," says Rose, "wind up adopting and that's fine with us. We offer food, vet care and training support during their foster and even beyond their adoption. Our goal is to rescue, rehab and rehome so we can help more."
"There are  so many pitbulls on borrowed and limited time at shelters everywhere," she says, "and we just can't do very much with limited financial and human resources. We need you!"
If you can help Joey, please email helpinghandro@gmail.com. If you can't foster or adopt, please share this post and spread the word about this loving guy who needs a home in the worst way.