Meet Midlands Humane Society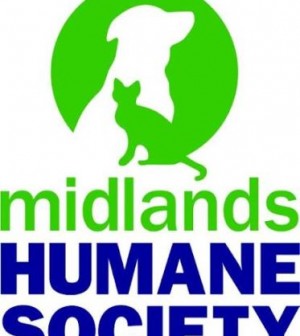 We've worked extensively with the Nebraska Humane Society and published many articles about its programs, people and animals. We've also informed readers about Town & Country Humane Society; last year we held our Warmest Wishes Donation Day where we collected over $5,500 worth of supplies for the Papillion shelter. Midlands Humane Society is Council Bluffs's shelter and we're happy to bring you these questions and answers which let you in on its mission, advocacy and all its work done for pets and owners in Pottawatomie County. Thanks to Rosie and Theresa from Midlands for all of their help!
Q: What is your organization called and where are you located?
A: Midlands Humane Society, 1020 Railroad Avenue, Council Bluffs, Iowa.
Q: When, why and by whom was the organization founded?
A: The Midlands Humane Society was founded in 2006. The original purpose was to raise funds to build the facility we have today, which opened on January 2, 2015. Midlands Humane Society was founded by a volunteer board of directors, many of whom continue to serve today. As the first humane society in Council Bluffs we provide Council Bluffs and the surrounding community with a comprehensive animal welfare center offering a safe and comfortable environment for the animals. This includes excellent standards of care, proactive adoption services that match pets with adopters, plus a diverse array of volunteer opportunities, community outreach and public education programs at our animal shelter.
Q: Are there board members, a president or officers for your group? Who are they and what do they mean to the group's success?
A: Midlands Humane Society has an 11 member volunteer board of directors. Our Board Chair is Leslie Southard. Our Board of Directors is vital to our success – they provide guidance for our overall operations as well as support our day to day work.
Q: What is your organization's mission and how do you execute it?
A: Our mission is to protect and nurture companion animals and enrich the lives of people who love them. We execute our mission through providing education services, adoption services, and promoting spay and neuter practices.
Q: How many people volunteer for your organization?
A: We currently have about 80 active volunteers and application numbers are quickly rising.
Q: How many animals do you rescue, foster and place in a year?
A: We opened on January 2, 2015. In that time 76 dogs, 82 cats, and 8 small animals have been adopted through MHS. (That pace will amount to over 500 dogs, nearly 600 cats, and over 50 small animals for 2015)
Q:Tell us what a typical day for your organization entails.
A: Early in the morning, our first volunteer dog walkers arrive to take our dogs for their morning walks. Staff and volunteers work together to clean and sanitize our animal care areas and make our building ready for potential adopters. Once our doors open, the building is buzzing with people looking for their next furry family member.
Q: How can animal lovers in the area help you in your mission? Donations? Volunteers?
A: We always need volunteers! Volunteers help us with everything from cleaning & clerical work to animal care & adoptions. In addition, the financial support of the public is vital to keeping our doors (and kennels!) open. To donate to Midlands, click here to see how you can help.
In early April, the Pets in Omaha editorial staff joined Midlands's volunteer corps for a day, and we'll be bringing you an inside look at what volunteers do for the shelter. Stay tuned for that!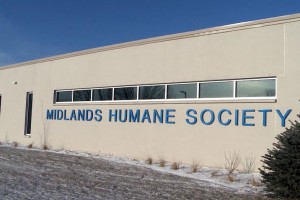 Midlands is off to a wonderful start in its new home and will surely grow with the support of our community. If you'd like to learn more about Midlands Humane Society, see the links below.
Midlands Humane Society's Web site can be found here. Follow them on Facebook and Twitter as well!