Meet Mindi Callison of "Bailing Out Benji"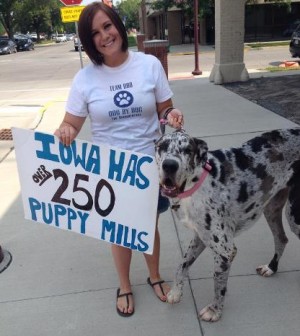 If any reader has read my stories and noticed my name on the byline, he or she has probably connected some dots. When I sit down with any of my interviewees, I can't help myself but connect their words to those which are reminiscent in some bit of literature I've consumed. When I'm not writing, I'm reading or teaching. After meeting Mindi Callison at a Nebraska Rescue Council meeting, it was apparent that I needed to get to know her and her story a bit better. It wasn't until I received an email response from her, however, that I realized the importance of the story to be told. The cherry on top was the closing of her letter to me, one that resonates for sure with a literary-minded man like myself: "Unless someone like you cares a whole awful lot, nothing is going to get better. It's not!" That's Dr. Suess, if you couldn't tell. Quoting words from a book will nearly always win me over, but if it doesn't, a story like Mindi's will do the trick.
It wasn't until college that Mindi first encountered puppy mills.
Having always adopted or found her family pets, she was taken completely by surprise when she walked into her first Petland
pet store
. "I saw hundreds of puppies living in these aquariums with wiring flooring and I just knew I had to help. Sadly, I fell into the same trap that all uneducated animal lovers fall into. I 'saved' a puppy from those awful conditions," she says. Those "awful conditions" of the pet store would prove docile to Mindi when she got a little farther down the road in her education on puppy mills.
The puppy she "saved" was a Siberian Husky and he cost $1200. "Knowing what I do now, I realize that I just left a hole to be filled by another puppy and I just perpetuated that cycle." But then, she was saving him. His cage was too small, his paws were sore and he was walking around in his own excrement. She had taken him from a bad environment and into a good one now, but it wasn't until two weeks later when a local news station ran a story about puppy mills (and their connection to the very store she purchased her pup from) did she realize the depth and darkness of this puppy buying process. That his parents were left back at the mill suffering. That others from his litter were bought and sold in a sort of puppy trade. That his brothers and sisters might not have made it to even the conditions that the pet store offered. Through her experience, a movement was born.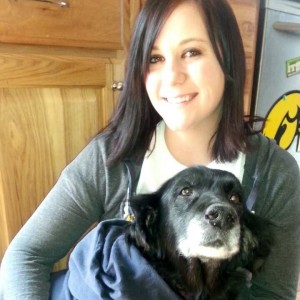 Mindi is from Ames, Iowa. Her life at present is dedicated to combating puppy mills and other issues pertaining to our companion animals. Her current mission is an extension of her caring personality. "Growing up, my family moved around a lot. My sister and I were in 14 schools before we hit middle school. The one constant Brandi and I had in our lives was each other- and animals," she says. She and her sis took in every stray cat they came across, always promising their mother that they would find its home. That rarely happened. Oops.
Since her encounter with the pet store and the education she's given herself on puppy mills, she's vowed to only adopt. In fact, her husband and she adopt black lab mixes to try and break the stigma that black dogs are difficult to adopt. Everywhere she goes, her pups are little ambassadors for their own cause. She currently has four furry examples of how nothing changes with the color of a dog's fur. Zeppelin is a chow/lab mix, Ellie is a lab, Crys is a lab/shepherd mix and Fannie is a senior rottweiler/lab mix. Fannie is her most recent family member and was adopted after her family dumped her in a kill shelter because she was "old and blind."
The aforementioned movement that was created after learning of the atrocities that are puppy mills is called "Bailing Out Benji."
Mindi started Bailing Out Benji in 2011. She was just 21 years old. "I remember sitting and watching the news when I learned about a woman who kept her two labs and their eight puppies locked in a bathroom. They were very malnourished and ill. When the charges were pressed, she only had two counts of neglect instead of ten. I was furious. There were ten lives that were suffering and she needed to be responsible for all of them!" she says. She started researching Iowa laws and was flabbergasted by what she learned. "Iowa is second worst state in the nation when it comes to puppy mills and we are also the bottom of the barrel when it comes to laws protecting our companion animals," she says. Her mission is to educate the citizens of Iowa in order to create change. As admirers of her cause, we're helping to promote change as a vehicle through which she can tell her story.
"People can't vote on issues if they don't fully understand the problem," Mindi says, and that's her biggest obstacle. Unknown facts, people turning the other cheek and ignorance stand as the opposition to what she hopes to overcome. "In the last few years, our blog has seen an astonishing amount of traffic and I am no longer doing all of the advocacy on my own. What was once 'just a blog'  has turned into an organization dedicated to humane education with many volunteers," she says. Volunteers help Mindi and Bailing Out Benji's mission. "We travel all over the state (and beyond) to educate about animal issues and, most importantly, puppy mills. We give presentations at the local university, we teach dog safety in schools, we have a booth at pet expos and any other events that people ask us to do."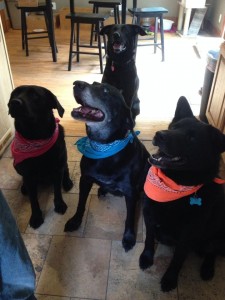 One of the biggest honors Bailing Out Benji has received is having been chosen to be a part of a national documentary about puppy mills called "Dog By Dog." The folks shooting the film came in from Washington, D.C. and Chicago to interview Mindi about Bailing Out Benji and film their peaceful protests. The documentary is set to come out sometime later this year; Mindi and friends recently traveled to Chicago to get a sneak peek.
When you visit Bailing Out Benji, you will see that the most common thing Mindi does is to raise awareness about the pet store/puppy mill connection in the form of hosting pet store protests. These demonstrations aren't scary or dangerous, they are constituted of animal lovers who peacefully gather to speak to passersby about the horrors of puppy mills. "We have been in front of Dyvig's Pet Shoppe in Ames for two-and-a-half years and we still get people that don't know what puppy mills are," she says. More recently, the group has organized protests in Iowa City, at a Petland location and in Cedar Rapids at another pet store, Pet's Playhouse. "We spend many of our nights and weekends traveling anywhere that we are asked to educate," she says.
We understand that many readers may still not fully grasp the concept or catastrophe that is a puppy mill. We also believe readers will want to help once they become more educated on the issues. This profile of Mindi is a story of one person and one organization working to fight the puppy mill culture. In the future, we'll highlight Mindi and others who stand up for animals by pushing for humane legislation and educate the public on how it can help in shutting mills down. We urge you to check out BailingOutBenji.com. Also find BoB on Facebook. Take a look at the group's blog, too. While the group is an Iowa-based educational organization, Mindi and her fellow advocates do help to educate people everywhere. People from all over the world send questions to them through Facebook and they are always happy to help them learn or solve the problem in their local areas.
Stay tuned for more on the pervasiveness of puppy mills and to find information from Mindi and others on how you can help. And remember, unless someone like you cares a whole awful lot, nothing is going to get better. It's not.