Meet Omaha's Pet Wants and its specially-crafted foods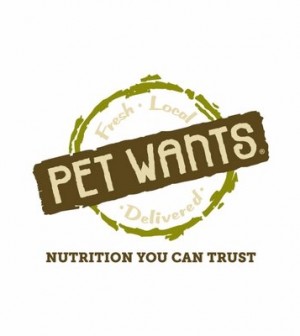 Pet Wants, a national brand with a locally-owned franchise right here in Omaha, is the maker of always-fresh, always-nutritious specialty craft dog and cat food. For the ever-growing market of pet owners who wish to feed their animals food that's high quality and transparent, the new, West Omaha offers everything they're looking for in their animals' food. Nutrient-dense, no sugar added, no fillers, no animal by-products, no corn, wheat, soy, or dyes- Pet Wants gives everything you want in your food and leaves out the stuff you don't- plus it is delivered straight to your door for free.
Omaha's Pet Wants isn't just a pet food company either; Tammy Hayes, the local owner and operator of Pet Wants West Omaha, offers a personal touch with her business. "I want to learn about your pets and help you to find the products that will work best for you and your pet, now and in the future," Hayes says.
Pet Wants' specially-crafted pet food formulas are made in small batches with fresh, natural ingredients enhanced with vitamins and minerals for a complete and balanced diet in every bowl. Pet Wants food is nutrient dense- not just because of the ingredients- because of how it's cooked and because it's delivered fresh. Hayes offers multiple blends of dog and cat food formulas as well as a healing salve, calming balm, anti-itch spray, paw wax, homemade treats, freeze-dried food and more.
A single mom with two teenagers,two cats – Hannah and Leo – and a Chi-Poo named Bubba, Hayes has been working in benefits consulting for more than 20 years. "I was ready to do something different that also allowed me to be more deeply involved in the community," she says. "I searched for a long time and, when I found Pet Wants, it clicked. Pet Wants is the perfect combination for me – I get to be out in the community bringing people products I believe in while working with pets."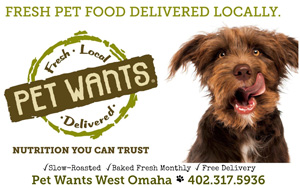 Pet Wants has a 100-percent, money-back guarantee on the freshness and quality of its food and only sources the best salmon, chicken, lamb, brown rice, and other ingredients available. And as stated above, what's in the food is only what you and your pets want.
Find West Omaha's Pet Wants on Facebook here and learn even more about the national brand by visiting the Pet Wants website here.  And to find out whether Pet Wants can deliver its great products straight to your door, call 402.317.5936 or click here.