Meet Omaha's sole cat-only grooming and boarding business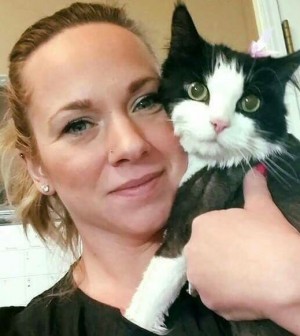 When a business starts up, proprietors hope what they do meets a need that isn't currently met by the existing business community. In our latest Pet Partner's case, the need is apparent and Cat Grooming by Jenny fills a void for kitties and their owners.
Cat Grooming by Jenny is the sole cat-only grooming and luxury boarding business in Omaha. The new business offers all types of cat grooming from nail trimming to specialty cuts. Using top-of-the-line products, your kitties will be pampered by groomers with 10 years of experience grooming only cats.
Boarding is another service provided. "Our boarding is cageless and each individual cat or cats from the same family can share a large room with plenty of toys, cat trees, ledges, and bedding," says Jenny Christopherson, owner of Cat Grooming by Jenny. "All you have to do is bring their food, any medication, and proof of Rabies vaccine. We offer a secure, quiet, clean, happy environment so you feel at ease leaving your cat with us! And the best part? No barking dogs!"
Cats influence all parts of Jenny's business- from the supplies sold to the paintings on the wall. "I researched many other cat boarding facilities around the world to get ideas for my business," she says. Jenny has had cats since birth and has loved all animals for as long as she can remember. "About 10 years ago, I discovered that I had a special bond with cats when I went to grooming school. It was all about dogs, and I really learned then that all I wanted to do was work with cats."
After grooming school, she worked in an all-cat vet clinic in Omaha as a veterinary assistant and learned everything there is to know about cats. "I worked there for 5 years and I learned there was a huge demand for cat groomers; I decided then I wanted to try and start my own cat grooming business, working from home and being able to be with my kids."
The business grew steadily. "Every month I kept getting more and more clients and outgrew my small space out of my house," she says. Jenny also had several clients who asked about boarding facilities for cats, furthering her belief that the market was in need of cat-only services. "That is when I got the idea to open up a storefront offering cat grooming and boarding."
Her store opened in July 2017. "I have never been happier with my choice to own my own cat grooming and boarding business," she says. "I hope to have another location at some point within the next few years!"
For more information about Jenny, her business, and her services, find Cat Grooming by Jenny at the Better Business Bureau, Facebook, and her Google listing (which has an awesome virtual tour for new clients to check out!). Folks can also go to her website where one can set a grooming appointment and read her 5-star reviews!
Jenny can also be reached during business hours at 402.708.7341.