Meet Omaha's Sweat Cycle & Soul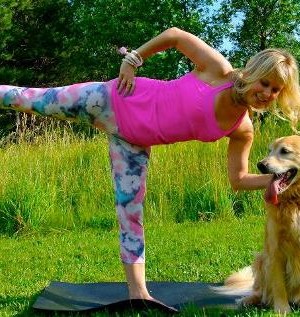 Staying healthy is important- we all know that. We also get bombarded each day with the newest "miracle drug" or latest and greatest "fitness routine that will change your life!" If you are looking for a fresh, relaxing and pet-including fitness adventure, you'll want to meet Omaha's Sweat, Cycle & Soul.
Sweat, Cycle & Soul is a Spin, Yoga, Pilates and TRX boutique studio. They deliver a unique group exercise experience which incorporates a specific sense of motivation and inspiration in all of their classes. The studio is located at 180th and Q Streets in southwest Omaha.
What does Sweat Cycle & Soul do and how do they differentiate from other fitness businesses? For one, they are super pet-friendly. Bonus points right off the bat there…
"We lead group and private fitness classes where our instructors not only guide our clients through their workout, but also create a fascinating environment that connects the mind, body and soul," says Kelli DeWispelare, co-founder of Sweat Cycle & Soul.
Jamie and Kelli DeWispelare founded SCS in January of 2013. Kelli holds a degree in Exercise Science and has worked in group fitness since 2003. She had both a dream and vision of creating a unique space where classes were fun and empowering and made it come to life along with her husband.
"It's exercise you crave because of the combination of inspirational coaching, energizing music and personable instructors," she says. Jamie does not work the day to day of SCS, yet has extensive knowledge in business and finance which is his full time work. The team has put together a unique and interesting business- one that isn't seen anywhere else in the Metro area.
SCS has 12 employees, all who instruct the various group classes as well as work with clients one-on-one with personal training and nutrition coaching.
"SCS is different from the typical fitness facility in the fact that we do not just focus on the physical body, but rather strive to instill a confidence of ones life as a whole," Kelli says.  The vision for SCS instructors is to empower people during their workout so they walk out of the door feeling successful and confident in whatever they are going out to take on that day. "Many of us fall into the habit of using exercise as a way to only better the physical body- burning calories so we look good," she says. "While we all want to look good, we coach class participants to exercise because clients are their best selves when they do."
Ditching the mentality of using exercise to punish the body after eating something "bad" is a lesson SCS teaches. What's more important, Kelli says, is finding a healthy and balanced routine that makes clients really find contentment and love of themselves and their life. Sounds good to us.
Being a small boutique studio, SCS is able to personally meet and get to know each client. Instructors will personally help set you up for class, allowing you the most success of your goals. Most of all, their classes are fun and full of energy. What else could one ask for?
If you are interested in getting to know Kelli and her team a bit more, look for them on social media and the web.
Sweat Cycle & Soul can be found on Facebook here: Facebook.com/sweatcyclesoul
The company is on the web at www.sweatcyclesoul.com and you can contact Kelli via email at info@sweatcyclesoul.com
Some special events you can participate in with SCS are DOGA (that's yoga with your dogs), SUP Yoga, DJ led Spinning Classes, Yoga at the Cove, Eat Green Challenges, Holistic Nutrition and Wellness Coaching. The variety is also what sets the group apart. Not just yoga, not just spinning, but new and fun ways to get fit and learn to connect with your mind and body through wellness.
Kelli has also extended a Special Offer to Pets in Omaha readers! You can take advantage of 20% off a 10 class pass to SCS by entering promotional code PETS20 at checkout on their Web site. Do it, folks!
Also, as a cherry on top, the first class is FREE for all local residents.
We're glad that there's a new option for you to get healthy and glad pets are incorporated in the business's plan. Check them out and let us know what you think of the fitness programs!
Below, you'll find a description of their most pet-friendly class, "Doga." This sounds super fun, so check it out:
DOGA Class Description:
Sweat, Cycle & Soul presents DOGA! (Dog Yoga)
A little stretching, a little doggie massage, A LOT of cuteness!
Bring a mat, if you have one, or just a towel to sit on and, of course, your sweet pup! We will focus on massage techniques for your dog and do some relaxing stretches. This is a great way to bond with your dog and let your dog get some social time as well. No yoga experience necessary. We always have some doggie and human treats after class.
Here's a photo of the Sweat, Cycle & Soul Staff and their pups: Left to right- Nicole Jamison and Frazier, Libby Guenther and Lilah, Sandy Clemens and Randy, Becki Kennedy and Sandy, Jen Collins and Sophia, Kelli DeWispelare and Bailey.