Meet Paws on Wheels Rescue Transport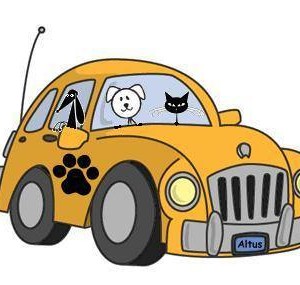 Typically, our Rescue Friends stories center on one group, letting you know who they are, which breeds they typically work with and where they are specifically located. This interview, however, is from a group that works with any and all rescues that need help in one area of rescue- transport.
You may wonder, "How does a rescued dog in (pick a place) get to its new home in (some other place, sometimes far away)?" One aspect of the rescue process is removing an animal from a situation and getting it into a better one. Sometimes, the perfect home is in another state. When that is the case, people who volunteer for places like Paws on Wheels Rescue Transport line up rides for animals that will carry the pups or kitties where they need to go. Below is a question-and-answer interview we've conducted with Teri Thiele of Paws on Wheels.
Q: What is your organization called and where are you located?
A: Paws On Wheels, Transports begin in Oklahoma, but the transport coordinators live in Missouri, Iowa and Illinois.
Q: When, why and by whom was the organization founded?
A: It was founded so that there could be a way to transport dogs from high kill shelters to no-kill rescues that were willing to take them in and find forever homes from them.
Q: Are there board members, a president or officers for your group? Who are they and what do they mean to the group's success?
A: Yes, we have 5 people on our board. Two of them live in Oklahoma and are our helpers on the ground. They are at each transport to organize and help load dogs. We have three transport coordinators.
Q: What is your organization's mission and how do you execute it?
A: Paws on Wheels' mission is to transport dogs and cats from the Oklahoma and Northern Texas area kill shelters to rescues all over the Midwest to have lives full of love and happiness via our all-volunteer transports. The transports are split up into multiple "legs" usually around 60-120 miles each. The dogs are then "handed off" to the next driver at designated meeting spots. Rescues/shelters in the Texas and Oklahoma area start by filling out a transport request form so we can add the dogs needing to travel into our database. Dogs/cats travel based on when requests are placed and when space is available. The dogs/cats are required to have a 10-day quarantine period outside the shelter to ensure they are healthy to travel. They also must have all required vaccinations (rabies) as required by each state, Heartworm tested if going to a Wisconsin rescue and must travel with a health certificate.
The first step for the transport coordinators is to determine which passengers are traveling. A passenger list is made and we list the passengers and legs needed on the Sign up Genius website where volunteers can sign up for what legs and what dogs they can transport. Emails are also sent out each week to our current list of volunteer drivers and the sign up is also posted on the Paws On Wheels Facebook page as well as other transport pages. Rescues are notified the week that their dogs are scheduled to travel. Friday nights we contact drivers for legs that still need to be filled and email out the final runsheet that includes the meeting spots and the drivers contact information. Paws On Wheels transports start on Saturday mornings and arrive in Kansas City and St. Louis, MO on Saturday night where the dogs are overnighted by volunteers. Sunday morning begins the second day of travel (for dogs heading north of Kansas City and St. Louis) and the dogs reach their destinations Sunday night. Dogs are also picked up and dropped off along the transport route depending on what rescues they are going to. We transport animals to Kansas, Nebraska, Missouri, Illinois, Minnesota and Wisconsin. The transports are monitored by drivers emailing time updates or calling the transport coordinator for time updates or any other issues.
Q: How many people volunteer for your organization?
A: Each weekend it takes about 20-30 volunteers to complete our transports. We have about 100-150 volunteers. Some are our "regular" drivers who drive almost every time we have a transport and some are occasional drivers or people that have only helped a couple times as they can.
Q: How many animals do you work with each day/month/year?
A: We have transport 3 out of 4 weekends each month. With occasional specials runs like during a weekday or times I will do longer runs on our off weekends to Kansas City or Oklahoma City to help catch up when we have a long line of dogs waiting to be transported. Each transport will have anywhere from 20-40 dogs depending on sizes. The last two years we have transported close to 1000 dogs/year.  This year it appears we will surpass that number.
Q: Tell us what a typical day for your organization/volunteer entails.
A: It really depends on the day. The weekends are spent planning the next transport and monitoring the current transport. Monday through Thursday we keep an eye on the transport to see if the legs are getting filled and posting it various places on Facebook to advertise the run. We also notify the rescues during the week that their dogs are scheduled to transport. Fridays are spent contacting drivers to fill the legs that no one signed up for and then writing the final runsheet and getting it emailed out.
Q: How can animal lovers help you in your mission? Donations? Volunteer?
A: Animal lovers can help us out by sharing our transport sign ups on Facebook by "liking" our page on Facebook. We also have flyers available if people have a location they would like to post it to help us find volunteers. Of course they can also drive for us or overnight dogs for us. They can also donate money to donations@pawsonwheels.org, all proceeds go to the vetting costs (rabies vaccination and health certificate) or will be used as fuel donations for drivers that may have the time and are willing to help, but can't afford the gas money.
Q: In a few sentences, what is the significance of transport as it relates to helping animals?
A: The pet overpopulation problem is quite significant in the south. The shelters are always full. By having rescues willing to take the dogs in and having volunteers to help transport them there where they will find their forever home and never be in a shelter again, we are literally saving lives. If not for animal transports these dogs wouldn't stand a chance.
Thanks to Teri for providing a look into a hard-working, life-saving part of the rescue process. If you'd like to help, use the above "donations" link to help financially; also, check out the group on Facebook to help with sharing, communication and other things the group could use your help with!