Meet Riki, Omaha Police Dept. canine cop, bomb squad vet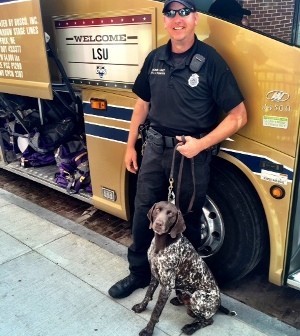 Imagine the settings in which you work include bustling airports, big entertainment venues, and exciting events everyone wishes to attend. Pretty cool, right? A fast-paced environment with different situations and challenges each day is something many of us would love to do in our work.
In that hypothetical situation, though, you mustn't forget what you're doing each day. Your job is to protect citizens from potential catastrophe as an explosives detector. Some of us may still want the job, but the pressure and potential-danger involved would likely make many think about a different occupation.
Our local, state, and federal government, whether it's the Transportation Security Administration (TSA) or the Omaha Police Department (OPD), employs people and animals to protect us from harm in airports, public venues, and on the streets. One of our local specialists is Riki, a German Shorthair Pointer. He's been a K9 cop and bomb squad veteran with the Omaha Police Department. Unfortunately, Riki has recently retired and, because of his excellent career here in Omaha, we'd like to say thanks for the service. We're excited, though, to let our readers know a bit about him and what a special dog like Riki must do to keep us safe each day.
Riki was an Explosives Detection Canine (EDC) with the Omaha Police Department. Officer Chris Thompson was Riki's primary handler and, along with the help of OPD Lt. Jay Leavitt, we are able to fill you in on the life of an EDC like Riki here.
"Officially, Riki's job was to detect explosives and/or deter the introduction of explosives into the nation's transportation systems," says Thompson. In addition, Leavitt says, dogs like Riki are "used to sweep areas and venues for high traffic events as well as dignitary protection assignments." Those are heavy responsibilities, no doubt. 
Assignments included the College World Series, the annual Berkshire Hathaway shareholder meeting, Olympic swim trials, and other NCAA events.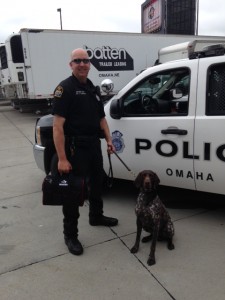 Riki is a very fast paced dog, earning him the nickname Riki Bobby (from the Will Farrell Talladega Nights movie). And though Riki is only five years old, he's hanging up his police dog leash. Riki has seizures and, therefore, can't be utilized as a police specialist any longer. He's set to go to Lackland Air Force Base for further treatment of his seizures, then retire with an adopted family in sunny San Antonio, TX.
Riki was provided and is owned by the TSA. He was handled by an Omaha Police Department officer through a cooperative agreement signed shortly after the terrorist attacks on September 11, 2001.
"Generally, TSA dogs are procured as pups," Thompson says, "and are provided basic training at Lackland Air Force Base before being put out into the field at around age two." From Leavitt: "The TSA is in charge of the explosive K9 detection dogs, so they work with breeders to identify dogs for the program and do the initial training of the dogs.  The handler will then go down to Lackland to meet the dog and train with him for a couple weeks to assure a good fit before they put them to work."
Currently, the Omaha Police Department has four EDCs like Riki. 
Bomb dogs owned by OPD were utilized prior to 9/11 to support large events and respond to bomb threats, among other things. Post-9/11, all OPD EDCs are provided by the TSA.
Handlers are responsible for EDCs 24 hours a day and seven days per week. They're also on call 24/7 to respond to emergency incidents. EDCs are assigned to a handler and only that handler works the EDC. "This creates an incredible bond between human and K9," Thompson says, as one can imagine. 
Riki has served the Omaha Police Department and the community it protects nobly and Thompson will surely be sad to see him go. If you see Officer Thompson out on the streets, be sure to offer him (or any handler, for that matter) an encouraging word of support.
Riki won't be around to support officers and citizens anymore, but he'll not be forgotten. 
While your encouragement is a great way to offer up support to officers, there are multiple foundations you can donate to that generally support the Omaha Police Department and its dogs too. These include the Omaha Police Foundation and the First Responder's Foundation.  "Funding for the explosive detection K9 is through the TSA," says Leavitt, but "Patrol K9s rely on many private donations" to the Foundations. Riki's value to the police is immense and the safety he, and other dogs like him, provided is invaluable. If you can, please consider supporting these Foundations to keep special pups like Riki in and around our town. 
Thanks to Riki for his service! Whether you knew it, he was there to make sure your college baseball game or concert was safe. Pets in Omaha speaks for every dog lover and supporter of the police when it says we wish Riki well in health and his new life in Texas.
As for Riki's replacement, the Omaha Police Department was notified by the TSA that Ben, a two-year-old yellow Labrador Retriever, is scheduled to join the team on Tuesday, Feb. 13. Officer Thompson says the department "Looks forward to welcoming the newest member of our team."