Made in Omaha: Dog bandanas from Ripley and Rue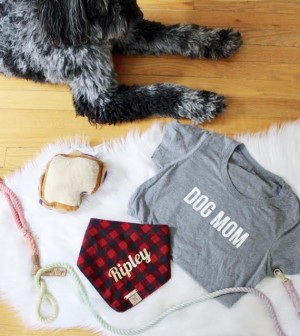 You may have read about Jeannie North here on Pets in Omaha as a co-founder of Omaha.dog. You may have also met her at local events like FURshion Week and a recent Pop-up dog park in Midtown. Her latest endeavor combines a new hobby, some pretty sweet products for your pets, AND a way for you to help needy dogs.
Jeannie and her husband started their newest company, Ripley and Rue, in August of 2016. Since then, it has grown at a surprising and unexpected rate.
"I had recently taken up sewing as a hobby and started making accessories for my dogs, friends' dogs and their babies," Jeannie says. Her bandanas come from great fabric, are made with love, and are named for her pups, Ripley and Rue.
After launching the business, Jeannie was getting special requests for personalized bandanas. "Naturally, it progressed into selling them on Etsy and then on our own website, RipleyandRue.com."  Her style has definitely progressed since the initial orders.
"I like to think we are kicking dog fashion up a notch," she says. "Our scarves and bandanas are a bit more modern and fashionable than a lot of our competitors. We also specialize in personalizing the scarves with dog names, and recently just starting creating matchings scarf sets for humans and dogs." Matching is really in right now with dog owners, she says. "It's cute."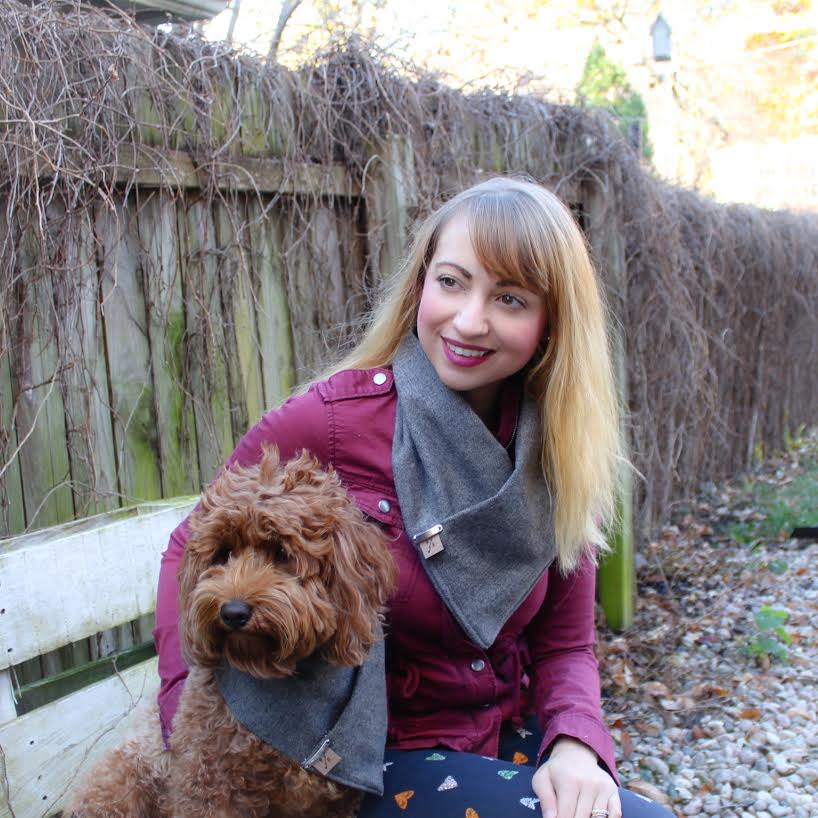 The company is currently sitting at 200 orders sold nationally and internationally just in the two short months the company has been open. "Many of our international sales are from Canada," she says, "but we just received our first Australian order last week. We're gaining a large follower base on Instagram with followers from around the world.
Last month, Ripley and Rue was featured on The Daily Tay (a popular blog), and just this month was just featured on Buzzfeed's 12 Perfect Gifts For Dog Lovers And Their Dogs This Christmas 2016. "We think the holidays are going to be busy for Ripley and Rue!"
Ripley is the the youngest of Jeannie's pups, a one-year-old Aussie Doodle. She's a goofy girl with attitude and mischievous tendencies. Rue was the couple's first pup. She's a two-year-old mini Golden Doodle. "She's the sweet one and basically the perfect dog," her mother says. "I told my husband that we'd never get a dog (since we had a cat), but when I saw puppy Rue, I was hooked." The couple decided they needed another only a year after getting their first. "Now you can definitely call me the crazy dog mom," she says.
If gaining a handmade, cool bandana isn't enough, Ripley and Rue will donate a portion of your purchase to a shelter in need.
"In May, my husband and I spent two weeks in Costa Rica. The stray population of dogs in that country is alarming and unfortunate. Although the strays were entertaining to look at and play with, most were malnourished or in need of medical attention."
Thankfully, there is a large movement by a particular shelter down there named "Territorio de Zaguates" (Land of the Strays), a no-kill shelter that homes hundreds of free roaming dogs in Costa Rica. "After my personal experience with these pups in Costa Rica, I knew that I wanted to help somehow. That's why we donate 10 percent of our sales to this shelter."
Take a look at Ripley and Rue products here when doing your holiday shopping! We're sure you'll find the perfect accessory for you and your pup.