Meet Precious of Katann Chow Rescue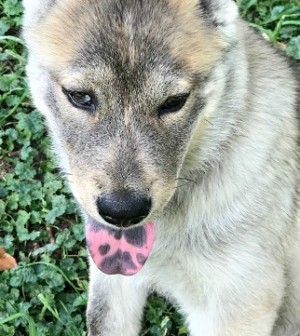 Katann Chow Rescue is a national group we've not covered before, but we're always happy to share Adoptable Animals from any rescue!
Upon seeing a photo of Thor (another rescue pup who is being fostered in the same home) someone left on the Pets in Omaha Facebook page, we heard of Precious and had to share. Here's a bit of info on Precious: if you are interested in starting an adoption application or want more information, contact Deanna Fuller through email – Katannchow2@yahoo.com.
Precious is more outgoing than the other pups she's around, but she's still got some fears of new situations.  She likes to follow the adult dogs and plays with the other pup (Thor) in her household.  Precious' foster mom has not seen any signs of aggression or bad behavior.  She is faster to housetrain than Thor and others, but still has the occasional accident when "mom" gets busy. She is spayed, wormed,  and vaccinated to date.
Deanna also says Precious is sweet and high-energy. She is good with other dogs and lets Deanna's two-year-old grandson hug her. She likes to chew, so she'll need many toys and rawhide! A yard is a must- again, she's got a lot of energy. And though she's shy, she warms up to new people quickly.