Can you adopt Twix from Hearts United for Animals?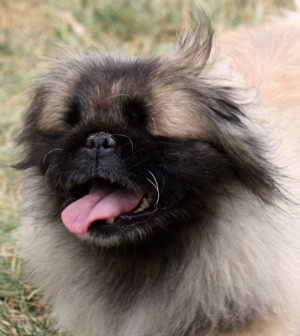 Twix is currently at Hearts United for Animals, a no-kill rescue shelter we just featured in our Rescue Friends series. Twix, a Pekinese, has been up for adoption for entirely too long and needs a home for the holidays.
Here's a little description of Twix from HUA:
Twix the Peke is just a little pip! She is full of energy and loves, really LOVES, playtime. Nothing seems to bother her or get in the way of her good time. She came to us from a puppy mill in Missouri. She lost 11 teeth due to infection in her gums. Twix also lost both of her eyes due to chronic infection left untreated at the mill, often times this is caused by the high concentrations of urine in the air, which burns the dog's eyes. As she flies through the room, Twix will skid to a halt just behind her human friends and wiggle around his or her feet for attention. What a happy, wonderful little dog she is. Skippy is her BFF and they love when they have play times together outside, especially when the humans are there for extra hugs and kisses. Twix has had no problem adjusting to being blind. For her, having the eyes was a handicap because they were causing her so much pain. She feels much better now that they are gone.
To see more about Twix and other adoptable animals from HUA, click here.
Twix was born October 12, 2002. She is small, weighing in at 12 pounds and, of course, she's a girl!
If life doesn't allow you to be able to adopt Twix right now, that's okay. No need to feel bad, but it would be great if you could share Twix with your friends to help her get adopted!