Meet the volunteers from NHS's Yappy Pack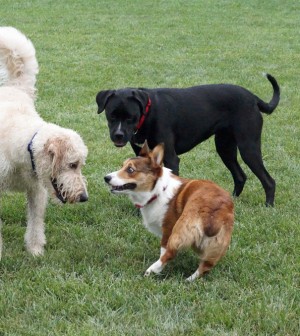 It was 9:30 in the morning and Hope Wicken sat at the top of the Nebraska Humane Society's east meadow, looking over dogs and their owners like a lifeguard at a pool.
She knows nearly all of the 50 dogs at the doggy play date hosted by Yappy Pack on Saturdays.
"Bilbo's pooping over there," she yelled out from the top of the hill.
She's been doing this for the past five-years and as it became more popular she started Wednesday's every first and third week of the month.
In order to participate dogs must be sociable, neutered, have all vaccinations and their owner's must bring a $3 donation.
All of the money that is raised by Yappy Pack goes to the Nebraska Humane Society's Marge Durham Walk for the Animals/5K. The Walk for the Animals is a fundraiser for the Nebraska Humane Society to help fund their 11-to-12-billion-dollar budget.
For the past two years the Yappy Pack has been the #1 fundraiser for the walk.  Last year the group raised $45, 478 for the Nebraska Humane Society (NHS).
They sell handmade kongs, bandanas and over 20-different flavors of treats at the Farmer's Market at Askarben. They also host their play dates on Saturday and Wednesday, bake sales and a dog wash twice a year.
Volunteer Katie Reents started bringing her dachshund Shroder shortly after her friends had begun dragging her to baking parties. Even before she has Shroder she knew she would have to bring him somewhere.
"It was important to bring him because I knew I was getting a dachshund…socialize socialize socialize," Reents said.
After that, she continued to come because she realized Schroder was making friends.
"They definitely form friendships. A lot of people don't realize it, but they have best friends too and it's important to socialize them so they can find their best friend," Reents said.
Although Yappy Pack primarily raises money for the NHS now, it started as a way for Wicken to let her dog Cheyanne play with other dogs at PetSmart.
She was planning on throwing a birthday party for Cheyanne at PetSmart, but there was a dog fight during a play date and they were no longer allowing play dates.
"They said that they would allow me to have my birthday party in a separate room since I had already planned it," Wicken said.
After that she started her own play group that met at Petco, then moved into homes, then to a Ralston Vet Clinic and then finally to the Nebraska Humane Society.
They began raising money for NHS about five years ago when they were still at the Ralston Vet Clinic.
Their first year they raised over $3,000 and Wicken says that it has only doubled each year.
"Our goal is to raise just $1 more each year," Wicken said.
Coming up on August 6th is their 3rd annual Canine Carnival and Corvette show. It will be held in the NHS east meadow were the play groups meet and will cost $8 per dog.  There will be doggy games, such as "Bobbing for Bones" and bowling as well as a peanut butter licking contest, cake contest and an auction.
For more information about the carnival you can go here.
To learn more about the Walk for the Animals 5K you can go here.
PHOTOS: Cynthia Kuthan