Meet Wag n Train Terrier Rescue!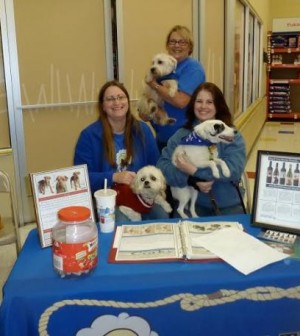 Wag n Train Terrier Rescue is the latest organization we'll feature in our Rescue Friends series! Read this question and answer interview with Wag n Train's Laura Castaneda, volunteer and donate if you're able and don't forget to spread the word about this great group of animal lovers.
Q: What is your organization called and where are you located?
A: Wag N Train Terrier Rescue, and we are based in Omaha, NE, however we have volunteers across NE, IA, and in MO.
Q: When, why and by whom was the organization founded?
A: We were founded in 2010 by Janeal Dominico.  After many years in rescue work, she saw a need for a terrier rescue in our area that rescued specific terrier breeds such as West Highland Terriers, Scottish Terriers, Cairn Terriers, Schnauzers, Yorkshire Terriers, and other rare terrier breeds.  Terriers are also near and dear to her heart, so it was also through her great vision that Wag N Train was born.
Q: Are there board members, a president or officers for your group? Who are they and what do they mean to the group's success?
A: We have a board of directors whom would like to remain unnamed.  The president of Wag N Train is Janeal Dominico, Vice President Katie O'Connor, Fundraising Coordinator Laura Castaneda, Volunteer Coordinators Chip and Kelcie Bell.  Our board helps us make objective decisions about everything from potential adopters to corporate partners and donors/fundraisers.  The Officers of Wag N Train work tirelessly to keep the rescue a well-oiled machine.  They are always very busy because there is always a furry life to save.
Q: What is your organization's mission and how do you execute it?
A: Our mission is to rescue, rehabilitate, train, and re-home terriers in need of permanent homes. We do not have a shelter-type facility.  All our dogs live with dedicated foster families.  While in the care of our foster families, our dogs are learning social skills, potty training, kennel training, and leash training.  Our dogs are also brought up to date on vaccinations, are spayed or neutered, and are provided with ongoing veterinary care as needed.  Once our dogs are available for adoption, we match each dog with the most suitable family, using our years of experience in rescue to make the best possible decisions. Our philosophy is to serve as the "voice of the dog."
Q: How many people volunteer for your organization?
A: We have a wonderful core group of volunteers which is 40 members, but we would always love to have more and grow our organization.
Q: How many animals do you rescue, foster and place in a year?
A: We rescue, foster and place approximately 50 dogs in a year.  Since we were founded in 2010, we have saved over 400 terriers.  We also have 4 "sanctuary sweethearts" -dogs that will stay in rescue for the rest of their lives because of advanced age or serious health issues.  Wag N Train provides all medications, supplements, dog food, and required therapy for these dogs so that they may spend the rest of their lives in comfort.
Q: Tell us what a typical day for your organization entails.
A: A typical day is very busy! We are always checking and responding to emails and inquiries about our dogs. We are also posting on Facebook daily and interacting with our supporters via social media.  There is always a dog in need, so we are coordinating with our networks and rescue partners to take in new dogs.  A specific passion of Wag N Train is to rescue dogs from Puppy Mills.  With this comes placing the rescue dog in an appropriate foster home, getting them fully vetted and ready for adoption.  We also have public events to showcase our adoptable dogs, and hold fundraisers to help with our medical expenses.
Q: How can animal lovers in the area help you in your mission? Donations? Volunteers?
A: Animal lovers can help in a number of ways.  We are always looking for new volunteers and foster homes.  The more fosters we have, the more dogs we can rescue at one time.  If you cannot foster we always have something else you can help with like fundraising, marketing, event planning and more.  We also need donations to help pay for the expense of veterinary medical care.  There are lots of opportunities to help us out!
Thanks to Laura Castaneda for providing answers about Wag n Train Rescue!
To learn more about the organization, visit www.wagntrainterrierrescue.com, www.Petfinder.com/shelters/NE107.html or find them on Facebook at www.facebook.com/pages/Wag-N-Train-Terrier-Rescue/127350030619446