Meet Wonder Weims Rescue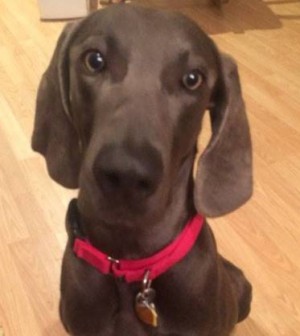 Our latest Rescue Friends feature helps spread awareness about a group that's very active in Nebraska, Illinois and Missouri, Wonder Weims Rescue. The Weims in both states are surely glad to have these wonderful folks and we at Pets in Omaha are as well. Remember, the things our Rescue Friends need most are heightened awareness, donations and volunteers, so if you think you can help Wonder Weims, be sure to get in touch!
Q: What is your organization called and where are you located?
A: We are Wonder Weims Rescue. Our main office is in St. Louis, MO. We cover Missouri, Nebraska, Illinois and will help out in any other state in need.
Q: When, why and by whom was the organization founded?
A: We were founded by Angie Pillman in 2008 for the love of the breed. We also felt compelled to help the large number of pups in need.
Q: Are there board members, a president or officers for your group? Who are they and what do they mean to the group's success?
A: Angie Pillman is the Director and President… she does a little bit of everything. Board members include our regional coordinators (Deb White in Springfield, MO) and Janet (Nebraska). We also have managing fosters and volunteers who care for all dogs in their area. Adoptions and fundraising are the most important aspect of their services and assures our group's success. Also, Wendy Haberl handles clerical and legal responsibilities, Starla Cooley handles owner surrenders, and it's important to know that each person in our rescue plays an integral part in our successes.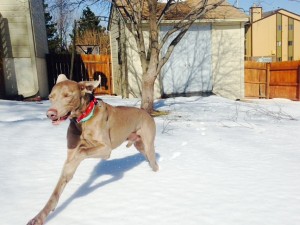 Q: What is your organization's mission and how do you execute it?
A: Wonder Weims Rescue is a non-profit non-kill animal rescue organization. Our family foster home system provides safe haven for abandoned, abused or unwanted Weimaraners. All dogs in our care are spayed or neutered and receive all life saving or necessary medical attention.
When our foster animals are emotionally and physically healed, we search for the correct human companion(s) for each, ensuring a loving, forever home. We make a "lifetime" commitment to every Weimaraner we accept into our program.
Q: How many people volunteer for your organization?
A: We are close to 250 volunteers strong.
Q: How many animals do you rescue, foster and place in a year?
A: In an average year, the number is around 200 Weimaraners.
Q: Tell us what a typical day for your organization entails.
A: We have volunteers that manage each part to the rescue. Application coordinators, owner surrenders, paperwork and foster coordinators… there are day-to-day management duties such as updating the website and our page on petfinder.com, posting updates on Facebook, managing fundraisers and watching the budget. We also spend a lot of time working with shelters to pull dogs who we can help. We spend time and effort educating the public on things like basic training questions. Any day can include setting up transports for dogs to come into rescue, making sure we have enough supplies, working on donations for food, toys, beds and other things as well. The phone never stops ringing! Each day is always different.
Q: How can animal lovers in the area help you in your mission? Donations? Volunteers?
A: Fostering is key to our success. All of our dogs are in foster homes and each foster home makes a huge difference in the life of each dog we rescue. All volunteers help our rescue by transporting, fundraising, helping with events… the list is endless! Of course without donations we wouldn't survive… Running a rescue is like a puzzle in that we need all the pieces to keep us going.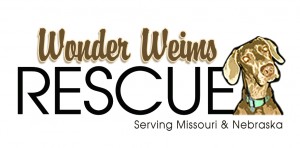 Thanks to Wonder Weims for telling us about their efforts! If you would like to follow Wonder Weims on Facebook, click here. Also, be sure to check out their web site of you are wishing to help in any way! Go to www.wonderweimsrescue.com for all details and get involved!