Pet People: WOWT-6 News Daybreak's Jordan Shefte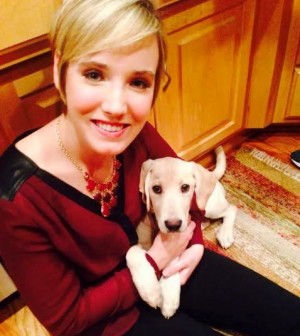 Since Pets in Omaha went live in 2013, I've interviewed dozens of pet lovers for our Pet People series. Many of our featured pet folks are from the television news industry because their faces are recognizable, we love telling their stories, and readers have indicated these stories are among their favorites. And like previous Pet People articles, you'll get a deeper look into the person you typically only get a glimpse of through your TV screen.
Jordan Shefte, our latest Pet Person, presented a more-affective-than-usual interview experience for me. Here's why.
When this site was born, I wasn't a father yet. At that time, WOWT-6 News Daybreak Reporter and Anchor Jordan Shefte hadn't yet had her little girl, Kinley, either. And if anyone reading this is a parent, especially of young children, there's an appreciation you inevitably have for people who can handle all the things that come with being married, working, having a spouse who works, having pets, and having children. We all have different circumstances, but Jordan and I share these.  When I left the news station after spending an hour with Jordan, I wondered (more than I've wondered about anyone who is doing all of those things just listed) how she does it all so well. But the answer to HOW DOES SHE DO IT?!? wasn't hard to come to after a little reflection.
We all have obligations. We're all busy. Most of us get tired and beat down. But by my judgment, somehow Jordan is immune. The energy she seemingly always has, the infectious personality and smile- those are all great attributes, but her superpower is her relentless drive.
Perhaps being from Omaha and inheriting its Midwestern values is one thing that contributes. Born and raised here, she says Omaha has greatly shaped her constitution. As a kid, she remembers always being active. Family, friends, gatherings of all kinds. Lancer games at Aksarben. Traveling for sports on the weekends. "There's always something to do here," she says, "and Omaha has so much to offer." She loves her hometown and its people. "Omahans are so giving and I've found the community so supportive. We've always had great neighbors," she says, and that is surely something that is infectious. All the good things about her hometown seem to have rubbed off on Jordan.
Something else that rubbed off on Jordan as a youngster was the news bug. "I'd always been inquisitive, liked interviewing, and was interested in television," she says, but the path toward becoming a television journalist was pretty well cemented when, in high school, her journalism class toured the WOWT complex. Jordan later job-shadowed a Channel 6 reporter and was hooked for good.
In high school, she practiced broadcasting and was the sports editor for the newspaper, but from age 8 until graduation from Washburn University in 2011, her identity was mostly "athlete." At Millard West, she earned all-state honorable mention honors her freshman and sophomore seasons as a soccer player. She was a member of the Olympic Developmental Soccer team. She was a first team all-Metro pick and  all-state selection. She was a Wendy's High School Heisman Nominee and Captain of the All-State team. First team super state, member of the Class A state champions, Nebraska state champion club team member in 2002, 2005 and 2006. On an on. You get the picture.
Now, that's not to say academics weren't important either. As a junior, she was named Academic All-State. Jordan was a member of the National Honor Society and a four-year member of the honor roll. She showed leadership and received scholarships to Washburn based on leadership potential. Academic and athletic scholarships were there too, if you can believe it. Drive Jordan drive.
But, all good things must come to an end. Jordan had bigger things to do anyway. Her new identity: professional journalist.
Upon graduation from Washburn with a minor in Leadership and a double major in Communication and Mass Media, Jordan took her first job back home in Nebraska. Hastings's KHAS-TV was where Jordan cut her teeth as a journalist. After a year there, she accepted a job at KAKE News in Wichita, Kansas. There she served as morning reporter and weekend anchor. The jobs were intense, she says.
At smaller stations like these, especially Hastings, one gets "the total experience," she says. "I was my own camera person and writer. I was my own editor. I had multiple stories every day and in between had to get myself looking suitable for TV. It was lots of work." And when she took the job of morning reporter in Wichita, she was exposed to a "much different animal," she says. Wake up times of 2:30 a.m. are no fun, but it prepared her for her current position at WOWT and early mornings in front of Omaha viewers. "Every job I've had added to my journalistic toolbelt," she says.
Though this all sounds extremely difficult for a young professional (and it surely was), Jordan was prepared. "Being an athlete for so long was probably the best prep I could have for being in the news," she says. "Sports made me competitive and you need to be competitive to make it in this field. You've got to beat others to stories and make those stories the best they can be. You've got to be a good teammate and communicator." The skills she honed in becoming a star athlete translated straight into being an up-and-coming journalist. Still, getting started was challenging.
Luckily, when she started out on her own as a newswoman, people she loved were never too far away.
Jordan's mother is a pharmaceutical rep whose region included Hastings. Often, mom would visit while on the road. Steve, the man Jordan married in 2012, was also able to visit often. "Living alone was an adjustment. I had downtime, probably watched too much TV, but the visits kept me going," she says.
Steve and Jordan met in 2007. They married in Omaha five years later and promptly moved to Kansas the following day. And when Steve's physician's assistant journey brought him to Omaha, Jordan followed him back home. A position was open at WOWT. Stars aligned. The two started growing their family soon after.
Things tend to happen in bunches for Jordan. Jordan and Steve married, then adopted their first dog, Brix, a month later. Shortly after she accepted the job at WOWT in 2014, she adopted Barley, their second pup. Two days later, the couple found out they were expecting Kinley, their now 17-month-old daughter. "If we'd have known that we were pregnant, we may have thought twice about adopting Barley," she said before stopping herself and adding, "Who am I kidding? We wouldn't trade her for the world."
Jordan's family always had dogs growing up. In fact, when she was born, her folks had two: a Yorkie (which passed away very early in Jordan's life) and a Golden Retriever named Shelby. "Shelby was like a sibling," she says. "We made memories together that I still hold onto. And when Shelby passed, I realized I would always want dogs around. Even needed dogs around."
Steve and Jordan's first pup, Brix, was 8 weeks old when she joined the family. Jordan went to meet the Havanese and little Brix licked Jordan's nose, to which Steve replied, "Uh oh…" Love at first lick.
Barley was a dog under the care of Omaha's Hands, Hearts, & Paws Rescue, and when Jordan and Steve went to Long Dog Fat Cat one day to "just meet some dogs", Barley, a lab/beagle mix, crawled into Jordan's lap. That was that. The four-month-old was potty-and-kennel trained to boot, so the decision to make Barley a part of the crew was easy.
Having pets, some say, is like having a "practice baby." Barley was an easy fur-kid to raise, Jordan says. Brix was (and is) a little more difficult. The couple loves their pups, but their shining light is their little girl, Kinley.
And while dogs are decent practice for human babies, nothing really prepares one to care for a newborn girl (I can attest to this). Jordan's identity shifted from athlete to journalist, and then to journalist/wife/dog mom/ Kinley's mom. And her current identity means "everything," she says.
Back to the question from me: How does she do it and do it all so well? Jordan cites her husband as a giant reason for this. "He's amazing. I leave at 3:30 a.m., so it's up to him to get up, get Kinley fed and dressed and to daycare. He pulls mom and dad duty for much of the day. I wouldn't be able to do it without him." The couples' parents are a pivotal element to their support system as well. "My parents are on backup for that 2:30 a.m. call just in case Steve and my schedules overlap. Heart surgery can be unpredictable and he is sometimes there still when I leave the house, so grandma or grandpa are backup. We have called them frequently dark and early in the morning and my in-laws are always willing to drive up from Kansas when we are in a pinch." As they say, it takes a village.
When parents have children, many choices are presented. One choice many mothers or fathers think on is the possibility of having one or the other stay home with the new addition. When Kinley was born, Jordan "waffled" about staying home, but decided to return to WOWT.
"I admire those who decide to stay home with their kids—that is a full time job in itself," she says. "But, I don't necessarily think it's the right role for me. Our time apart, I feel, makes me a better mom. I love my job and also soak up every second I get to spend with her. Plus, that smile when I pick her up from daycare makes my day. I want to show her that a woman can be independent and strong, and hope to set a positive example for her." It's a huge challenge to be a mom in the news biz, she adds, but one can make it work. Jordan makes it work, and very admirably at that.
Naps help, she says. Hobbies do, too. Among her hobbies are working out, reading, and guiltily gobbling up reality TV. And though she can't do as much of these things as she used to, they're still pastimes. Brix, Kinley, Jordan, and a running stroller get together whenever possible. Jordan's basement is her cardio area now. It's a juggling act, but she's a pro.  Supermom indeed.
Amazing as that is, perhaps the most amazing thing about Jordan was revealed to me upon asking this question: "You've got a free day; what, in your dreams, are you doing?" While many of us would name sleep or relaxation or some other not-so-productive activity as the day's plan, Jordan says she'd maybe sleep in a bit, head to the zoo with Steve and Kinley, take the dogs to the park, and spend time with the family however else she could. There's no question as to what's most important to Jordan- family. If there were more free days, she'd love to volunteer, foster, and donate more of her time to rescues and shelters.
Now that you've gotten a glimpse into Jordan Shefte's past and present, it's difficult, I'm confident in saying, to imagine her future being anything but ultra-bright. Make part of your future watching one of Omaha's shining stars on your TV screen. She'll spend hers gracing your screen and raising her growing family.
She's driven to do that and she will, undoubtedly, do it with a full heart and that familiar smile on her face.
If you'd like, follow Jordan on Facebook here. She's also on Twitter. You can catch her on screen periodically throughout the weekday early mornings and behind the anchor desk from 11:30 to noon, Monday through Friday on WOWT-6 News.