Mindi Callison of Bailing Out Benji named a HSUS "Advocate we Love"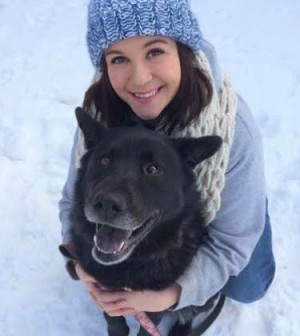 Literature is one way to connect with others. It's definitely how I realized Mindi Callison and I would be cohorts when thinking about animals and as we stay connected, talking about the day-to-day on nearly that regular of a basis. Upon completing the biographical discovery and getting-to-know-you stuff, writing my first article about Mindi, she ended her email with this signature:
"Unless someone like you cares a whole awful lot, nothing's going to get better, It's not!"  🙂  "
Dr. Suess said that and Mindi used it as a reminder to me that she doesn't just do this "protest thing" or "dog-saving thing" as a hobby- it's a crusade and calling. She cares a whole awful lot about the mill dogs. And lucky for me, and anyone else who calls her a friend, she cares a whole awful lot about making everything around her better than she found it. She's certainly gotten me to a better place.
A friend to me, a friend to our Pets In mission, and a friend of puppy mill dogs everywhere, Mindi has recently been named an "Advocate we Love" by the Humane Society of the United States. She, along with 13 other animal lovers from across the country, was chosen because of the hard work she's done for years advocating for animals. Mindi says she is "so very honored to have received this award," but in true Mindi fashion, says she "absolutely could not have done it without the work of Bailing Out Benji's amazing volunteers! Matt, Karen, Vicki, Jason and Brandi (to name a few) work tirelessly behind the scenes and at our protests to make sure we educate as many people as possible… I could not be more proud of them and grateful for all they do," she says, giving thanks to all of Bailing Out Benji's followers, donors, and supporters from Iowa and the rest of the world. Hundreds of thousands of people have visited BoB's website in the last three years and over tens of thousands of others follow BoB on various social media channels.
From The Humane Society of the United States's Puppy Mills Campaign Facebook page: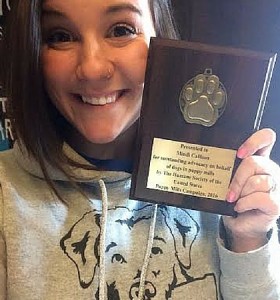 Mindi Callison, Ames, IA. Mindi founded a puppy mill education nonprofit organization, Bailing Out Benji, in 2011 to educate Iowa residents about puppy mills and the pet stores that support them. Bailing out Benji provides free humane education presentations to schools, libraries and other public venues, and disseminates information about puppy mills via its website and social media.
They protest every day in September for Puppy Mill Awareness month and participate in "twelve days of protest" leading up to Christmas. On extremely frigid days, Mindi and others from her group hold signs near the pet stores reminding shoppers that puppy mill dogs are suffering in the cold. In 2015, Mindi and her dogs Abby, Zeppelin, Ellie, and Crystal appeared in the documentary, Dog By Dog, a film that explores the money trail behind the puppy trade. Mindi is also working with The HSUS to support local ordinances in Iowa that would prohibit the sale of puppy mill puppies in pet stores. In addition,Mindi and members of Bailing Out Benji can often be found in below-freezing temperatures demonstrating in front of pet stores that are linked to puppy mills.
Bailing Out Benji does much to educate, promote adoption, and explain the evils of puppy mills. Among BoB and Mindi's biggest public service announcements are giant, Ames bus-carried messages and a billboard located near Dyvig's, the pet store she and her volunteers peacefully protest day-in-and-day out in its hometown.
A great example of an animal advocate, Mindi is deserving of this honor, though we know she's not satisfied. Follow Mindi and Bailing Out Benji now and later as they continue to fight for those without a voice.