Why this month is important, our campaign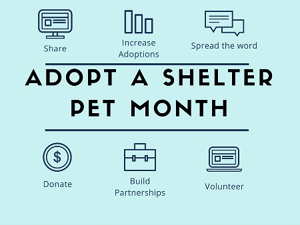 This is a hugely important month in the world of companion animals.
Why? Because October is dedicated to dogs who need homes. The American Society for the Prevention of Cruelty to Animals (ASPCA) calls October "National Adopt a Shelter Dog Month." The American Humane Association (AHA) designates October, "Adopt a Dog Month." The names are a bit different, but the goal of both is shared and simple: get the millions of dogs that are in and out of our nation's shelters homes.
We, as representatives of the Omaha pet community, have a chance to do our part. It's always a great time to adopt and not shop, but this month, it should be our biggest goal. That's why Pets in Omaha is campaigning for shelter dogs this month and every month.
The overarching goal of the nationwide, October campaign is to spread awareness for dogs in shelters and find them homes. Our goal centers on what we can help do for animals and the shelters that house them while they wait. During October, Pets in Omaha will promote Adopt-a-Shelter-Dog month and we encourage you to do the same.
It's our goal to help our local shelters, The Nebraska Humane Society, Midlands Humane Society and Town & Country Humane Society, adopt out as many dogs as possible this month. Between those three shelters, an average of 600 animals are in their care on a daily basis.
Let's work together to give homes to 500 dogs from Omaha-area shelters in October.
We've said it a thousand times, but it should really be emphasized during October- Adopt, Don't Shop! We'll do our best to get the word out and bring you content throughout the month. We'll write about the successes and remind you how you can help.
All month, we'll do whatever we can to promote our local shelters and find homes for pups in their care. There are hundreds of dogs waiting today, there will be more next week and there will be more at the end of October. Let's help 500 of them find a home together.
Find out more about The Nebraska Humane Society by visiting its website here and its Facebook page here. Do the same for Midlands on the web and on Facebook, plus get to know Town & Country at their site and Facebook page.
An example of one shelter's operation and how your support helps it and other shelters in the area:
Town and Country is an all volunteer organization that focuses primarily on adult pets in danger of euthanasia at other shelters. According to the shelter's director, its goal is "to help offset overcrowding in high kill areas so their local shelters can concentrate more effort into adoption programs, while providing higher-risk pets an opportunity to rehabilitate in a safe, less stressful situation." One shelter works hard so shelter dogs across the area can have an easier go at being in a shelter, being rehabilitated and finding a new home. "Our adoption program strives to place pets in responsible, loving, lifetime homes. We also put a lot of effort into evaluating potential adopters lifestyles, needs, and goals with pet ownership to try and ensure the pet they are considering will be able to be a loved and valued member of their family. Additionally, extra support after the adoption is finalized is always available if problems or concerns arise."
Stay tuned all month long to hear from Town and Country, the Nebraska Humane Society and Midlands Humane Society.
The October Campaign is brought to you thanks to the support of Gary Kudym of State Farm Insurance.