Moving with pets? Protect them and your home with these tips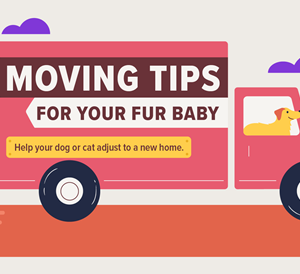 If you're in a home now, odds are you want to do whatever you can to protect it. And if you're in the process of moving to a new place, you'll want to do the same.
Recently, we told you about a number of ways you can "pet proof" your home- that is, keep it in top-notch shape while still enjoying it with your animals. Find those tips and a very cool informational graphic here.
As for those looking to make a move or in the middle of it all, good luck. It's always difficult. And if you've got animals coming along, you've got some worries surrounding them, we're sure. Will they like the new place? Will they be safe during the move? How do I make them comfortable in the new spot? Any and all of these can cause a bit of anxiety.
Check this out if you're looking for affordable Los Angeles movers.
Have no fear! Not only are we wishing you luck, but we've gotten some great help and tips from a company that specializes in solving these kinds of problems. Hire a Helper knows all the ins and outs of moving, especially knowing how to connect you with resources. In this article from Hire a Helper on moving with pets, you'll find tips on:
Also, you'll find this informational graphic (below) with much more supporting detail on the site.
Good luck, again, and take a peek at the resources from Hire a Helper to avoid forgetting something important you should be doing before or during your move!