The Nebraska Humane Society is at cat-pacity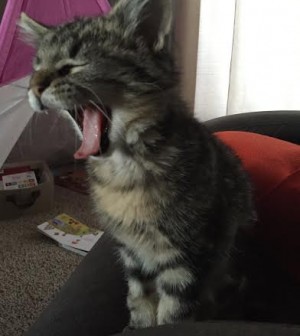 It's like a broken record, but the Nebraska Humane Society is full of cats…again!  The shelter needs help to get the word out and make space.
Here are some numbers that help explain the situation:
Overall cat intake is up 338 kitties this year compared to this time last year.
While strays are down 115—owner surrendered cats are up 416.
The shelter has adopted out more cats this year than last already—but it's been playing catch-up all summer long with the high number of cats.
Once again, all cats 6 months and up are Free Adoptions! 
Kittens are two for one at $75 : they are great in pairs as they learn good cat etiquette from each other like how to sheathe claws and bite inhibition. (And yes we do have kittens right now as well as adult cats)
All cats and kittens are spayed/neutered, microchipped, feline leukemia tested, and have first shots.
The NHS is even throwing in a free cat toy for adopters.
Because the shelter is at capacity, it is encouraging people who have been considering a cat to make the commitment now when it really needs to free up kennels for this final wave.  And the shelter is encouraging people who need to relinquish their cat to find a friend, family member, or other person to take the cat–or keep it until a time that we are not so full.  We don't want to have to make difficult choices based on space.
Adoption Hours:  Weekdays:  Noon-7pm /    Weekends: 10am to 5pm  *again we're closed labor day
Remember that when you adopt you save two lives–the cat you adopt, and one that can take its place in the kennels!
You can see all available animals on the shelter's website at www.nehumanesociety.org