New Dharma Apprentice Program empowers dog lovers to become trainers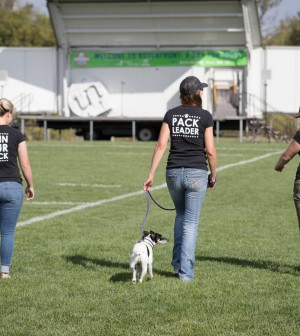 If you are interested in canine behavior and are looking to take on a new challenge (that could lead to a new career!), one the area's top training companies has an opportunity for you. Beginning on March 17, 2018, is Dharma Dog Training's 2018 Apprentice Program. The program will last one year, preparing participants for opportunities that await in the animal industry.
"This is the only program of its kind in the country," said Kelley McAtee, owner of Dharma Dog Training, "where people can study with trainers, empowering them with skills to enter the animal industry or start their own businesses."
By enrolling in the program, one will gain many skills and participate in a number of experiences:
HELP ANIMALS – Learn how to understand canine language, and to communicate effectively
WORK WITH RESCUES & SHELTERS – Develop volunteer programs and get jobs in the industry
BECOME LEADERS – Take leadership roles at their jobs, teach family and friends and become better communicators
SELF IMPROVEMENT – Start cognitive therapy, yoga and exercise programs, become pack leaders for their family
START THEIR OWN BUSINESSES – Start structured dog walking, day care, pet sitting and training businesses
ENROLLMENT ENDS MARCH 10. There is more information, videos, and pictures on Dharma's website here.

Also, visit Dharma Dog Training's Facebook page to view Rachael Wilson's video; she started out as an intern, then apprenticed, moved into Assistant, Lead, then Head Trainer! Now she is the Director of Training & Behavior at Midlands Humane Society in Council Bluffs. 

Visit Dharma Dog Training's site at the link above and learn to train yourself, dogs, and others, impacting the world in a positive way.