New products, services from Cat Grooming by Jenny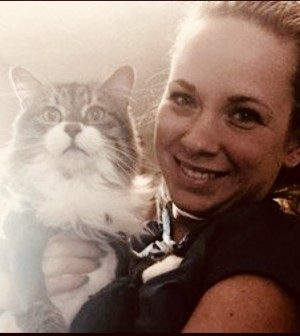 One of our newest partners, Cat Grooming by Jenny, is rolling out some great news- not only can you have your kitty groomed and/or boarded there, in Omaha's sole cat-only grooming facility, you can now pick up some natural cat food while you're there!
"We've recently started carrying high-quality cat food brands and are excited to tell our customers," says Jenny Christopherson, owner of Cat Grooming by Jenny. Earth Born grain-free dry, canned, and pouched foods are now available at the groomer, located in Millard. Also, you'll find Nutri Source grain-free dry food is available, plus a large selection of other grain-free canned food for kittens, seniors, and everything in between.
Pure Vita grain-free dry food (including great protein and freeze dried treat options) and a variety of single protein canned foods round out the selection.
Many cats are allergic or have an intolerance to the grains in their food. Signs of allergies in a cat, Jenny says, include chronic dirty ears or severe skin problems. Cats are carnivores and their bodies do not break down corn and wheat well. Some grain-based foods have unnecessary fillers that leave cats wanting to eat all day long, gaining weight quickly. Irritable bowel syndrome and diabetes can result from eating poor quality foods.
A cat's diet should include fish oil, which is either added to the food or comes in these high-quality options. "This will help with inflammation and improve things like arthritis, dry skin, and dull coats," Jenny says. Also, be sure to consult your veterinarian before making any major diet changes in your cats.
Come check out Cat Grooming by Jenny's holistic, high-quality cat food options and talk about how to give your cat a better food and future. The business is located on the web at www.catgroomingbyjenny.com and you can read more about it in our Pet Partner Spotlight post here.